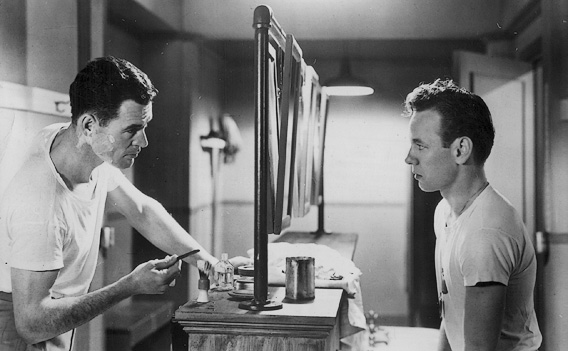 CROSSFIRE
7:30 PM
This most nocturnal of noirs—it all takes place during one long night in Washington, D.C.—often gets overlooked as a crackerjack crime picture because of its incisive attack on American bigotry. A Jewish civilian turns up dead after fraternizing with several recently demobilized soldiers; the GIs close ranks in military fashion, but their Alpha-dog, Sgt. Keeley, gradually steers police captain Finlay toward the rotten apple in the bunch—an ignorant Southerner whose ingrained prejudice would have been welcomed in the Nazi SS. Memorable performances abound: Ryan is genuinely frightening, Mitchum forges his cool-cat persona, and Gloria Grahame and Paul Kelly are one of the strangest couples in 1940s cinema. Crossfire works spectacularly on two levels: as a searing and still-timely message picture and as a top-shelf, race-the-clock noir thriller.
1947, RKO Radio Pictures [Warner Bros.] 86 minutes. Screenplay by John Paxton, from the novel The Brick Foxhole by Richard Brooks. Produced by Adrian Scott. Directed by Edward Dmytryk.
Newlyweds Paul and Nancy Lester arrive in a small town to visit Paul's old buddy, Ed Stevens. Only Ed is nowhere to be found, and none of the town folk are eager to locate him. Paul is equally perplexed by the White Supremacy tracts he finds in his pal's apartment. Discovery of an undeveloped roll of film leads to a camera store—which is promptly vandalized, its Jewish owner threatened. Suddenly, Paul and Nancy come face-to-face with a virulent tribe of American Nazis and must decide whether to flee deadly threats against themselves or keep searching for Paul's missing comrade. A low-budget but hard-hitting cousin to 1947's Crossfire and Gentleman's Agreement, both of which broached the once-taboo subject of anti-Semitism, Open Secret is audacious for its time, showing how rampant prejudice and bigotry could easily coalesce into an all-American strain of fascism. John Reinhardt assuredly directs—albeit with meager resources—this pull-no-punches tale that's anything but a typical B programmer.
Preceded by the short documentary A Night at The Garden (2017, dir. Marshall Curry. 7 min.)
1948, Eagle-Lion Films [UCLA Film & Television Archive]. 68 minutes. Screenplay by Henry Blankfort and Max Wilk, based on a story by Max Wilk and Ted Murkland, with additional dialogue by John Bright. Produced by Harry Brandt, Frank Satenstein, and Robert L. Joseph. Directed by John Reinhardt.