THE RECKLESS MOMENT
7:30 PM
California homemaker Joan Bennett longs to separate her headstrong daughter Geraldine Brooks from the influences of bad apple boyfriend Shepperd Strudwick. But events spiral out of control, and soon mother and daughter are covering their tracks from an accidental homicide. Enter shady character James Mason— tall, dark, and handsome, and in possession of evidence that would incriminate Bennett. Max Ophüls criminally underrated noir masterpiece weaves this weird, it-could-never-be romance with a twisty, tension-fueled plot.
1949, Columbia [Sony], 82 min
KISS OF DEATH
9:30 PM
Victor Mature plays a hump trying to shake the crooked life who gets enlisted by the cops as a stoolie. He fingers Richard Widmark for a job that's been nagging the law, but the prosecution bungles the case and the wacko walks. Mature sends his family away, knowing that he'll have to confront the vengeful Widmark if he ever wants to be free of him. Kiss of Death is actually one of the earliest psycho-stalker movies—all of its suspense is generated by wondering when and where Widmark (in his debut performance as Tommy Udo!) will reappear, making the audience eager for whatever fresh, twisted tricks he has up his sleeve.
1947, 20th Century-Fox, 98 min
IN ADDITION TO A SEASONALLY THEMED DOUBLE BILL of vintage noir films, host Eddie Muller will be revealing the complete schedule (and scorching new poster!) for the eagerly anticipated NOIR CITY 14 festival, coming to the Castro January 22-31, 2016.
Passports (full series passes) and tickets to all the festival's double features will go on sale on NoirCity.com the same evening. We will also be selling Passports at the theatre along with some brand new official Film Noir Foundation merchandise, so you can catch up on holiday gift shopping for the film noir lover in your life, too.
HOLIDAY GIVING AT NOIR CITY XMAS
You've got a chance to prove that it's not such a bitter little world after all at this year's NOIR CITY Xmas. We will have collection bins for both the San Francisco Firefighters Toy Program and the SF-Marin Food Bank at the event and we encourage everyone to give what they can.
The San Francisco Firefighters are looking for toys for kids — infants through 12-years old. Toys must be unwrapped. Their biggest need is toys for girls, ages 8 through 12. Donation suggestions: sports equipment- basketballs, footballs, soccer balls, baseballs and gloves; arts and crafts items; baby items — blankets, bottles, rattles; dolls of all nationalities and stuffed animals; iPods; books; and toy trucks. They do not accept toy guns. If you donate a game system, please include a game. Here are the most needed foods for the SF-Marin Food Bank: peanut butter, low sugar cereal, whole grain rice, pasta and oats, low sodium soups and stews, tuna and canned meats, canned fruits and vegetables. Please, no glass, opened items, perishables, or items past their "use before" date.
NOIR CITY's flagship festival will return to its home at San Francisco's historic Castro Theatre, January 22-31, 2016 for its fourteenth edition. This year's lineup will be unveiled, along with the official poster, at NOIR CITY Xmas on December 16 at the Castro. Passports (full series passes) and tickets to all the festival's double features will go on sale on this website the same evening. We look forward to seeing all of you there!
2016 NOIR CITY ACCOMMODATIONS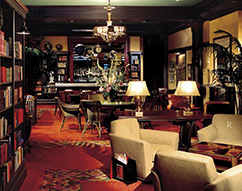 Need a place to lay your head during NOIR CITY 14? If you're an out-of-towner looking for lodging in the City by the Bay, or a local wanting to turn a night at the festival into a romantic getaway, our friends at the Hotel Rex are offering a 15% discount off regular room rates for festival guests during NOIR CITY, January 22-31, 2016. Located at 562 Sutter between Mason and Powell, you can get to our home at the historic Castro Theatre in about 15 minutes via the MUNI underground or a cab. We feel the Rex's location in Gallery Row and its bohemian Paris ambience is perfect for this year's NOIR CITY theme, The Art of Darkness. Amenities at the Rex include complimentary Wi-Fi, upgraded to 100 MB, and flat-screen TVs with iPod docks in every room as well as a complimentary glass of wine from 5:00-6:00. The Rex's Library Bar offers handcrafted cocktails and a menu of American classics. Did we mention they are pet friendly? Book here for your special festival rate.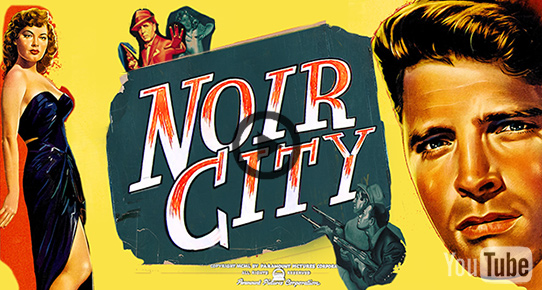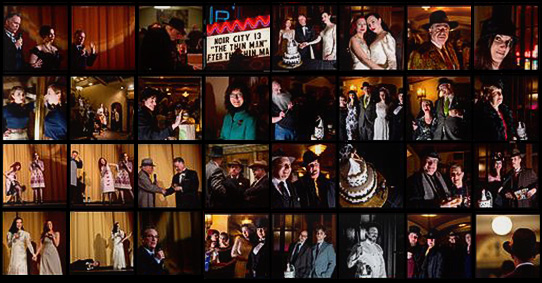 EXTRA! EXTRA! Get Your Noir News Here!
The world of noir goes well beyond the boundaries of NOIR CITY. The Film Noir Foundation's news page brings you the latest on film noir screenings and festivals in the U.S. and abroad. We also cover: neo-noirs currently in the theatre; DVD, Blu-ray and digital releases of classic noirs and the films influenced by them; and noir news "beyond the cinema"—current events, fine and performing art pieces, and commercial products inspired by the world of noir. We'll also let you know which dark gems are playing during the current month on Turner Classic Movies on the Film Noir Foundation's TV Listing's page.
FNF VIDEO ARCHIVES
Our Video Archives feature an expanding catalog of noir-related video, ranging from exclusive interviews, to festival guest appearances, to short films inspired by film noir.

LATEST ADDAuthor J.R. Jones spoke with host-producer Alan K. Rode about his new biography, THE LIVES OF ROBERT RYAN, after a screening of On Dangerous Ground (1951) at the 2015 Arthur Lyons Film Noir Festival in Palm Springs. WATCH.

Surround yourself in a miasma of social media darkness: join us on Facebook, Tumblr and Twitter for a complete immersion in the world of film noir through film stills, posters, film clips, brilliant insights, and more. Maybe you'll meet a dangerous stranger along the way.