NOIR CITY once again offers the dark gift of film noir for the holidays.
Join us at San Francisco's historic Castro Theatre on Wednesday, December 18 for a double dose of Noir NoŽl: Allen Baron's landmark independent crime drama Blast of Silence (1961) followed by the ultra-rare genre-bending Christmas Eve (1947). Mr. Baron will be in attendance to introduce his legendary cult classic, and at the intermission will be signing copies of his new book, Blast of Silence: A Memoir. The show will also feature the public release of the NOIR CITY 12 program schedule, the unveiling of the new NOIR CITY 12 poster, and holiday shopping for the noir-lover in your life. "Czar of Noir" Eddie Muller and the reigning Ms. NOIR CITY, Audra Wolfmann, will host. Both films will screen in 35mm, and as usual tickets for this exceptional event are only $10 for the double bill—less than the cost of a single holiday eggnog at any bar in town!
BLAST OF SILENCE
Celebrate the holidays in proper noir style with one of the bleakest films ever set during the Christmas season! Taciturn hitman Frankie Bono returns to his childhood haunts in New York for a quick Noël knockoff, only to be tortured by the ghosts of Christmases past. Will Frankie make it to a New Year? A unique and spellbinding low-budget indie that's a singular bridge between classic '40s' film noir and the cinema verité style of the '60s. Produced, written, directed and starring Allen Baron. (1961, 77 min.)
CHRISTMAS EVE aka SINNER'S HOLIDAY
Our yuletide gift to NOIR CITY fans is a one-time only screening of this ultra-rare comedy-drama hybrid, shown in the only surviving 35mm print! A rich widower will be swindled out of her fortune by a shady executor unless her three ne'er-do-well sons can ALL make it home by Christmas to stake a claim to the estate! George Raft, Joan Blondell and Randolph Scott head an all-star cast of film noir favorites. (1947, 90 min.)
ORDER TICKETS FROM BROWN PAPER TICKETS.
Tickets will also be available at the Castro box office the day of show.
Planning ahead for NOIR CITY 12? If you're an out-of-towner looking for lodging in the City by the Bay or you're a local looking to turn a night at the festival into a romantic getaway, our friends at the Prescott Hotel have an offer you can't refuseóa special nightly rate of $155 per night (before taxes) exclusively for NC12 attendees. This boutique hotel, located only two blocks from Union Square and housed in the city's original Press Club, possesses a vintage feel and is only a short ride by Metro or taxi from the Castro Theatre. The Prescott will be providing classic film noir entertainment to its guests at their nightly wine hour throughout the festival as well as a 20% discount on meals at the adjacent (and acclaimed) Postrio restaurant.
→ Follow our direct link for more information or to book a room at the special NOIR CITY rate.
Crowds flocked to NOIR CITY's flagship festival in San Francisco to luxuriate in its most expansive schedule yet—27 films—held once again at its genuine movie palace home, the historic Castro Theatre, January 25—February 3, 2013. This year's festival kicked off with a tribute to guest of honor Peggy Cummins, legendary for her ferocious performance as outlaw Annie Laurie Starr in Gun Crazy. Watch the on-stage interview here. NOIR CITY's tribute to Ms. Cummins continued on Saturday afternoon with screenings of two 1957 films, Curse of the Demon and Hell Drivers in which she also starred. The 10-day festival culminated in an all-day marathon of six rare B-noirs, including the world premiere of another FNF restoration, 1947's High Tide—giving patrons a chance to recover from the revelry of the NOIR CITY Nightclub the night before. Dressed to the nines, partiers time-travelled back to 1949 for an extraordinary Saturday evening of scintillating music, sexy striptease, and dancing in a glamorous vintage venue, the Regency Lodge. This year's show, emceed by "Czar of Noir" Eddie Muller, included the sizzling jazz of the Dmitri Matheny Group, the sultry pop-noir stylings of Erin Brazill and the Brazillionaires, the return of international striptease sensation Evie Lovelle, torch song temptress Laura Ellis, and the uniquely soulful and sinister serenades of El Radio Fantastique!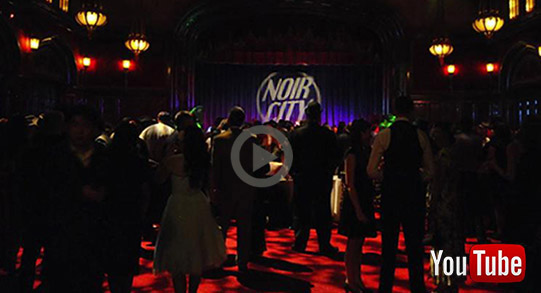 ↑ You can see the good times had by all in photographer David M. Allen's slideshow featuring Laura Ellis' performance of "This Bitter Earth" accompanied by the Dmitri Matheny Group, recorded live at NOIR CITY Nightclub 2013.
Don't despair if you couldn't make it to our flagship NOIR CITY festival in San Francisco. You still have an opportunity to see the FNF funded restorations of Repeat Performance, Try and Get Me! and High Tide at one of our satellite festivals. You can now experience NOIR CITY in Seattle, Los Angeles, Chicago, Portland (OR), Washington D.C. and starting in 2014, Austin.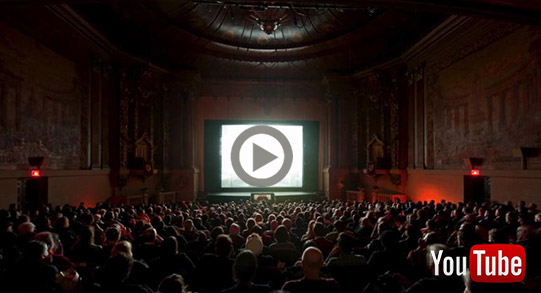 ↑ To see what you missed in San Francisco, take a gander at our slideshow of David M. Allen's photographs of NOIR CITY 11 featuring the music of the Dmitri Matheny Group, recorded live at NOIR CITY Nightclub 2013.
The continued support of attendees of the NOIR CITY festivals aids the Film Noir Foundation in their mission to preserve film noir and a theatrical audience for this unique American art form. Attendees of the NOIR CITY festivals and donors to the FNF are directly responsible for the availability of 35mm prints of nearly lost film for screening in repertory theaters across the States. Go here for more on the FNF's mission to save film noir for future generations.

↑ View and order prints from David M. Allen's photo coverage of NOIR CITY 11 and NOIR CITY Nightclub here.
If you didn't make it in 2013, here's a recap of some of what you missed:
On its first Saturday night NOIR CITY paid tribute to another great woman of cinema, film preservationist Nancy Mysel ,with screenings of Try and Get Me! and The Hoodlum. Nancy managed the Film Noir Foundation's restoration projects, including The Prowler (1951) and Cry Danger (1951). She died last year after a prolonged battle with cancer. At the screenings, the FNF officially announced the Nancy Mysel Legacy Project, created to recognize and financially endow the development of new film preservationists. Nancy's family was present to inaugurate the project, in which they play a major role.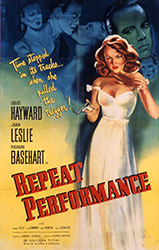 Opening weekend ended with a "Showbiz Noir" double feature, the premiere of the FNF's restoration of Repeat Performance (1947) and the U.S. premiere of the stunning 4K digital restoration of the stupendous Sunset Boulevard (1950).
This was the second time NOIR CITY screened Repeat Performance. Originally shown in 16mm at NOIR CITY 6 when the lone 35mm print in existence proved too fragile to project. We were particularly proud to resurrect this rare fantasy-noir hybrid in a brand new 35mm restoration, funded in part by the FNF.
The week also featured a night of "African-American Noir," highlighted by the West Coast premiere of the ultra-rare adaption of Richard Wright's classic Native Son (1951)—starring the author himself. It is an incredible "missing" piece of cinema history and we were thrilled to host its West Coast premiere. The week also saw the return of two favorite NOIR CITY themes, San Francisco Noir, which included the U.S. premiere of the 4K digital of Experiment in Terror (1962), and Bad Girls Night. Both proved tremendously popular, as always, with NOIR CITY patrons, as did our first ever triple bill of Pre-Code Proto-Noir.

The NOIR CITY Bus Tour also made a triumphant comeback this year. 24 passengers enjoyed a three-hour excursion through some of San Francisco's most cinematic sites (what's left of them!) with their guides Miguel Pendas and Eddie Muller. Attendees watched film clips from classic noir films such as The Maltese Falcon, The Lineup, The Sniper, Thieves' Highway, Dark Passage, House on Telegraph Hill, Vertigo and many more—while visiting locations where the films were actually shot!

NOIR CITY also hosted its first night of 3-D Noir, pairing two of the very first 3-D movies of 1953, Inferno and Man in the Dark, both digitally restored. Both proved solid films with superior writing and acting, unexpected for 3-D in its gimmicky infancy. Then on Saturday, attendees gorged on a triple bill tribute to the king of fatalistic pulp fiction, Cornell Woolrich, including a brand new 35mm print of Street of Chance (1942), the world premiere of The Chase (1946), freshly restored by the UCLA Film & Television Archive and The Film Foundation, and the FNF's preservation of the suspense classic The Window (1949).
The world of noir goes well beyond the boundaries of NOIR CITY. The Film Noir Foundation's news page brings you the latest on film noir screenings and festivals in the U.S. and abroad. We also cover: neo-noirs currently in the theatre; DVD, Blu-ray and digital releases of classic noirs and the films influenced by them; and noir news "beyond the cinema"—current events, fine and performing art pieces and commercial products inspired by the world of noir. We'll also let you know which dark gems are playing during the current month on TCM and FOX Movie Channel on the Film Noir Foundation's TV Listing's page.
NOIR CITY Annual #5 is now available on Amazon.com! Add this book to your library and help the FNF rescue and restore vintage noir films. NOIR CITY Annual #5 contains the best writing on noir available anywhere in the world! Articles for this 264-page b ook have been selected from 2012's NOIR CITY quarterly e-magazine, showcasing writers Eddie Muller, Vince Keenan, Jake Hinkson , Imogen Sara Smith, Mark Fertig, Carl Steward, and many more. Dramatically designed by Michael Kronenberg, beautifully printed and with a new, sturdy binding, the NOIR CITY Annual #5 is a steal at $25.
The Film Noir Foundation has joined forces with Back Alley Noir to bring film noir devotees the very latest news. When readers have a question for the Foundation or want to post their own noir news, they can do so via BAN's discussion board , the official discussion board for the FNF.
Follow us on Facebook and Twitter. If you haven't signed up, maybe you should. Maybe you'll meet someone who will betray you and leave you for dead on the internet. At the least, you'll have access to a vast repository of noir posters and photos.