The Film Noir Foundation is a non-profit public benefit corporation created as an educational resource regarding the cultural, historical, and artistic significance of film noir as an international cinematic movement.
It is the mission of the Foundation to find and preserve films in danger of being lost or irreparably damaged, and to ensure that high quality prints of these classic films remain in circulation for theatrical exhibition to future generations.
The centerpiece of the Foundation's public awareness campaign is the annual NOIR CITY festival held in the San Francisco Bay Area. For more information on the Foundation, and how you can be a supporter, visit the Film Noir Foundation website.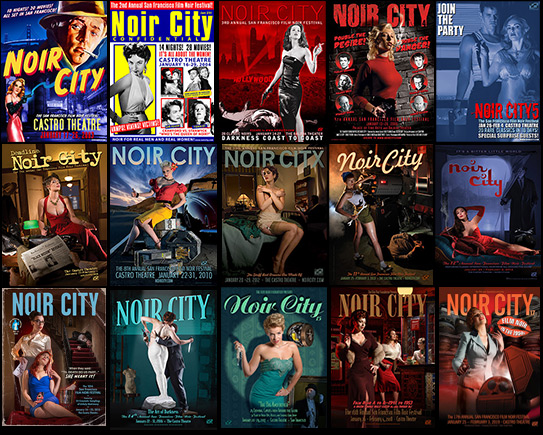 NOIR CITY ANNUAL #13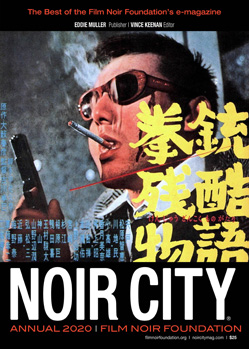 2021's NOIR CITY Annual 13, the best of the best from the Film Noir Foundation's 2020 NOIR CITY Magazine issues, contains essays, profiles, interviews, and appreciations of classic and modern noir films from today's top writers: Imogen Sara Smith, Jake Hinkson, Ray Banks, Christa Faust, Nora Fiore, Nick Feldman, Alan K. Rode, Steve Kronenberg, Brian Light, Sharon Knolle, Farran Smith Nehme, Danilo Castro, Ben Terrall, Ethan Iverson, Vince Keenan, and Eddie Muller. Book layout and design by Michael Kronenberg with an article by the designer on the celebrated comic writer Tom King. And, as with any purchase from the FNF, when you buy NOIR CITY Annual 13, you'll be helping fund the non-profit foundation's film restoration efforts. *SOLD OUT on Amazon. Available at NOIR CITY festivals in 2022.
FILM NOIR FOUNDATION VIDEO ARCHIVES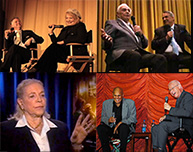 Our Video Archives feature an expanding catalog of noir-related video, including exclusive interviews and festival guest appearances.
FEATURED INTERVIEW
Where the Sidewalk Ends (1950) and special guest Susan Andrews opened the 21st annual Arthur Lyons Film Noir Festival on October 21, 2021. After the film, Andrews conversed with festival host and producer Alan K. Rode about her impressions of the film, growing up in Hollywood as the daughter of star actor Dana Andrews, and her father's legacy as one of Hollywood's seminal leading actors. WATCH
ASK EDDIE
Did you know that the Film Noir Foundation has livestreams each month on our Facebook page in which Eddie Muller answers questions submitted by our e­mail subscribers? Broadcasts are scheduled for December 2, 9, 16, and 30 at 7pm PT on Facebook. All broadcasts are available on our YouTube channel the following day. WATCH

Surround yourself in a miasma of social media darkness: join us on Facebook, Tumblr and Twitter for a complete immersion in the world of film noir thugh film stills, posters, film clips, brilliant insights, and more.