The Film Noir Foundation is a non-profit public benefit corporation created as an educational resource regarding the cultural, historical, and artistic significance of film noir as an original American cinematic movement.
It is the mission of the Foundation to find and preserve films in danger of being lost or irreparably damaged, and to ensure that high quality prints of these classic films remain in circulation for theatrical exhibition to future generations.
The centerpiece of the Foundation's public awareness campaign is the annual NOIR CITY festival held in San Francisco. For more information on the Foundation, and how you can be a supporter, donor, or sponsor, visit the Film Noir Foundation website.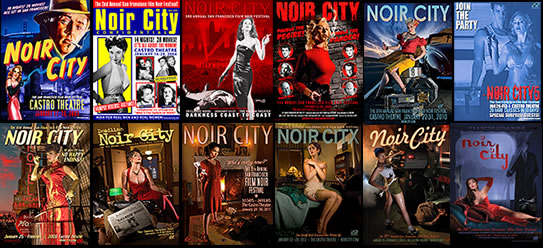 NOIR CITY Annual #9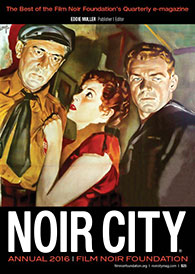 It just keeps getting better! 2017's NOIR CITY Annual 9, the best of the best from 2016's exciting NOIR CITY e-magazine, is a must-have for your growing Annual collection—essays, interviews, profiles, tributes, and reviews of classic and modern noir films from writers at the top of their game—Imogen Sara Smith, Vince Keenan, Brian Light, Jake Hinkson, Martyn Waites, Johnny Shaw, and Eddie Muller, including Eddie's essay on the making of The Murderers Are Among Us. Book layout and design by Michael Kronenberg. And, as with any purchase from the FNF, when you purchase NOIR CITY Annual 9, you'll be helping fund the non-profit foundation's restoration efforts.→ Now available for purchase on Amazon.com.
FILM NOIR FOUNDATION VIDEO ARCHIVES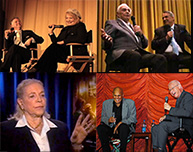 The Film Noir Foundation's website has an ever expanding catalog of noir-related video: NOIR CITY guest appearances including the luminous Angie Dickinson's at NOIR CITY X; interviews with stars like Lauren Bacall and Ernest Borgnine, as well as directors like Paul Schrader and Andre De Toth; and homages to film noir. View the Film Noir Foundation's video archives.

Surround yourself in a miasma of social media darkness: join us on Facebook, Tumblr and Twitter for a complete immersion in the world of film noir thugh film stills, posters, film clips, brilliant insights, and more.