The world's most popular film noir festival, NOIR CITY, will return to the fabulous Castro Theatre January 25 through February 3, 2019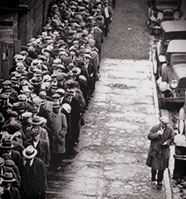 Skip the lines. Get a Price Break. Buy a NOIR CITY 17 Passport
As always, festival devotees will enjoy 10 glorious days and nights of noir-themed double features as they were meant to be seen, on the big screen, in one of America's greatest movie palaces: San Francisco's historic Castro Theatre. Secure your spot for all the fun with an all-access NOIR CITY 17 PASSPORT for $125.
This all-access festival pass grants the bearer:
✽ Entry to all films during NOIR CITY 17
✽ Separate passport holders' queue for early admittance to the theater for all shows
✽ Opening night passholders' reception (Castro mezzanine) beginning at 6 pm on Jan. 25,
Proceeds from the NOIR CITY festival help fund the FNF's restoration and preservation efforts year-round. This is your chance to have a smashing time AND preserve a valuable art form. The perfect holiday gift for the film lover in your family! BUY YOURS TODAY!
NOTE Passports are non-transferable. All sales are final. Patrons MUST arrive 20 minutes before showtime to be guaranteed a seat!

The Castro Theatre can be reached by the Muni Metro K, L and M lines, as well as the F-Market Streetcar, and the #24, #33, #35, and #37 bus lines.



BART riders can transfer to the Muni Metro from the following stops: Embarcadero, Montgomery, Powell and Civic Center.

Surround yourself in a miasma of social media darkness: join us on Facebook, Tumblr and Twitter for a complete immersion in the world of film noir through film stills, posters, film clips, brilliant insights and more.