HIGHLIGHTS FROM SAN FRANCISCO'S NOIR CITY 13
Movie lovers from around the globe had a grand time at the 13th annual edition of NOIR CITY: The San Francisco Film Noir Festival, held at the Castro Theatre, January 16–25, 2015. The program of 25 titles depicted the darker side of marriage, although the audience had a fun and festive time.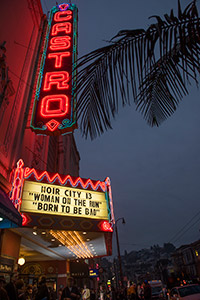 On opening night, Hollywood Foreign Press Association board member Yoram Kahana presented Film Noir Foundation president Eddie Muller with a plaque celebrating the restoration of Woman on the Run prior to the film's re-premiere. The HFPA's Charitable Trust provided the FNF with a $65,000 grant to help underwrite the cost of the film's restoration. Kahana, a regular attendee of Muller's noir festivals in Los Angeles since 1999, has been the FNF's leading advocate within the Hollywood Foreign Press Association, which also provided funding last year for the restoration of Too Late for Tears. See sidebar for more on the restoration of Woman on the Run.
Opening Night's second San Francisco-set noir, Born to Be Bad, kicked off NOIR CITY 13's tribute to actress Joan Fontaine, who admirably displayed her rarely seen wicked side. Audiences were treated to both the American and the more sophisticated European ending of the film. Born co-starred Robert Ryan, who would also be saluted later in the festival. The next day's matinée honored Fontaine's work in Hitchcock's Suspicion and Ida Lupino's The Bigamist. NOIR CITY's salute to the versatile actress ended Saturday night with her murderous turn in the Edwardian noir Ivy. NOIR CITY favorite The Suspect followed featuring one of Charles Laughton's finest performances.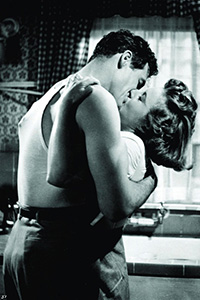 NOIR CITY 13 also paid homage to two of film noir's biggest stars, Robert Ryan and Barbara Stanwyck. Ryan's versatility was well displayed with Tuesday night's double feature, playing a sadistic and paranoid billionaire industrialist patterned on Howard Hughes in Caught and an aging boxer determined to win one more match in The Set-Up. The following night, Ryan played an embittered projectionist chasing after his best friend's wife, an equally embittered Barbara Stanwyck, in Clash by Night. Stanywck turned murderous cop's wife in the second feature of the night, Crime of Passion.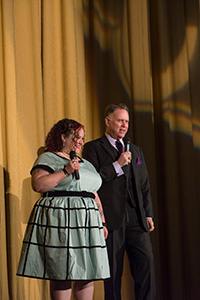 Stanwyck got one more chance to shine on Friday night, playing an abandoned unwed mother turned impostor in No Man of Her Own, adapted from a story by pulp master Cornell Woolrich. Another Woolrich-based film preceded No Man, the FNF-funded 35mm restoration of The Guilty. Prior to the screening, Nancy Mysel Legacy Project recipient, Ariel Schudson, joined FNF president Eddie Muller to discuss the restoration of the film and the importance of film preservation. As always, the proceeds from the NOIR CITY festivals help fund the FNF's restoration projects.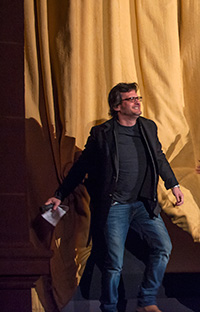 Marriage on and off the screen was the theme for Saturday's matinée. NOIR CITY honored the work of husband and wife filmmakers Andrew and Virginia Stone with a triple bill of their excruciatingly suspenseful noirs. Host Eddie Muller commented prior to its screening that Julie's finale inspired the parody Airplane. Following an afternoon of entertaining independent Hollywood fare, NOIR CITY audiences were treated to two revered cinematic examples of Continental noir, Luchino Visconti's Ossessione and H. G. Clouzot's Les diaboliques. Prior to Ossessione, TCM's Ben Mankiewicz paid NOIR CITY a surprise visit. He joined Muller on stage for a glass of wine and to introduce the film.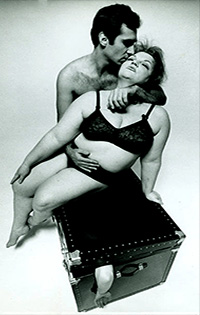 NOIR CITY 13 closed with its most disturbing double feature ever, pairing John Frankenheimer's 1966 hallucinatory sci-fi noir Seconds with the brutal and blackly comedic Honeymoon Killers (1969). Rock Hudson's role in Seconds, as a discontented middle-aged businessman who is "reborn" as a handsome artist through the efforts of a mysterious corporation, is the most nuanced and painful performance of his career. Shirley Stoler and Tony Lo Bianco give equally fearless performances in Honeymoon as the murderous real life lovers Martha Beck and Ray Fernandez who defrauded and murdered women Fernandez met through lonely hearts clubs.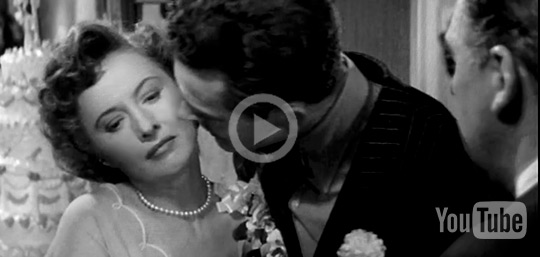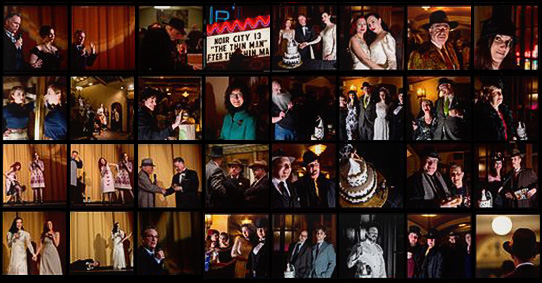 2015 NOIR CITY 13 PRESS
NOIR CITY 13: 'Til Death Do Us Part
"Muller and his henchpersons have concocted a cinematic series built around the idea that women are and always have been entitled to their place in the shadows....The marriage-relationship-male-female theme not only lends itself to the essence of what we think of as noir—pipe dreams of happiness vs. the reality of squelched plans, heartbreak, and doom—but opens up one of noir's hottest subtexts, the one about love and how not to get it." READ MORE.
On Location with NOIR CITY 13: San Francisco Is the Shadowy Backdrop for Many of NOIR CITY 2014's Unholy Matrimony Stories.
"...[I]t's fitting that now, a year later, NOIR CITY is set to launch its most San Francisco-centric program since 2003. No fewer than eight of the twenty-five films screening at the Castro over the next week-and-a-half have key scenes set and/or shot in San Francisco or Monterey." READ MORE.
Restoration of 'Woman on the Run' Highlights NOIR CITY 13
"The only known print of Woman on the Run was destroyed in a fire, and the film was thought to be lost forever.... But thanks to a bit of detective work, the Norman Foster-directed thriller that perhaps makes the best use of San Francisco locations of any film of its era is back." READ MORE.
Eddie Muller on NOIR CITY 13 and the Rescue of Woman on the Run
"NOIR CITY is the Ultimate in the getting out of the house and off the iPhone thing – and then watching a vintage film in a packed theatre that is also a bonafide movie palace." READ MORE.
NOIR CITY Celebrates Unholy Matrimony at This Year's Film Fest
"Marriage, the theme of the latest iteration of the San Francisco Film Noir Festival's NOIR CITY, might seem an unlikely topic for a genre that usually traffics in lust, larceny and murder. Viewers will find, however, that the 25 films that screen at the Castro Theatre over the course of 10 days and nights this month upend traditional notions of "till death do us part." READ MORE.
Alameda: NOIR CITY Film Festival Returns, Focuses on Marriage, Murder
"'The genre built on the idea of murder as a solution to a bad marriage in part because of the (Hayes) Production Code, which decreed that killing your spouse was OK, divorcing them was not' explained Noir Czar and longtime Alameda resident Eddie Muller, founder of the NOIR CITY Foundation and the festival's co-programmer. 'There was no couples therapy. Murder was the only way out.'" READ MORE.
NOIR CITY 13: Stock Up on Femmes Fatales
"As if the hard-boiled dicks and fatal femmes that populate film noir don't have enough hard luck as it is, now there's the fact that the annual Noir City Festival at the Castro is entering its 13th year." READ MORE.
Another Year, Another NOIR CITY
"Relief floods over me as I realize the event of the year is approaching: the 13th annual NOIR CITY Film Festival." READ MORE.
NOIR CITY and Jewish Film Festival Compete for San Francisco Cinephiles,
Meredith Brody, indieWIRE
Joan Fontaine, Poison, Marriage, and Murder: Saturday at NOIR CITY
Douglas Sirk Day at NOIR CITY
Lincoln Spector, BayFlicks.com
Opening Night of NOIR CITY 13, Laura Gabrielle Fowler, Backlots.net
NOIR CITY Opening Night, Keith Azoubel, Cinema Alley
Til Death Do Them Part, Tamo Amador, The Bay Area Reporter
Cinematic San Francisco: NOIR CITY, Peter Maravelis, San Francisco Public Library - What's on the 6th floor?
13th NOIR CITY Film Noir Festival Starts This Weekend, Ken Bullock, The Berkeley Daily Planet