NOIR CITY Xmas—Tickets Now on Sale!
Ring in the holidays with a Cruel Yule courtesy of the Film Noir Foundation! Join us Wednesday, December 19, 7:30 p.m., at San Francisco's Castro Theatre for Charles Laughton's The Night of the Hunter (1955). The holiday season is the perfect time to share this timeless noir fairytale about the eternal human struggle—between avarice and atonement, sinners and saviors, good and evil. Robert Mitchum gives a legendary performance as a vile and conniving ex-con masquerading as a man of the cloth. He's not about to let two innocent children come between him and a long-hidden bounty. Shelley Winters may be a gullible mark for this faux preacher, but spinster Rachel Cooper (a memorable portrayal by Lillian Gish) knows the devil when she sees it. Actor Charles Laughton created a stunning work of magical realism, the only picture he'd ever direct. Why not quit while you're ahead? This is a one-of-a-kind masterpiece.
In addition to bearing gifts of compelling cinematic artistry at NOIR CITY Xmas, host Eddie Muller will reveal the program for the upcoming NOIR CITY 17 festival January 25-February 3, 2019 at the Castro Theatre. Plus, for your holiday shopping pleasure, we'll have NOIR CITY 17 Passports (all-access passes) for sale, along with select FNF merchandise, on the Castro mezzanine.
Tickets for NOIR CITY XMAS available now—$10 at Brown Paper Tickets. Tickets will also be available at the Castro Theatre box office the day of the show.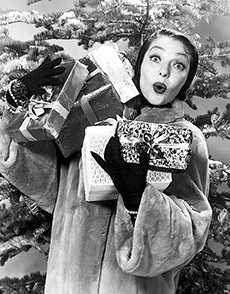 Holiday Giving at NOIR CITY Xmas
Here's your chance to prove it's not such a bitter little world after all! At this year's NOIR CITY Xmas, we will have collection bins available for both the San Francisco Firefighters Toy Program and the SF-Marin Food Bank, and we encourage everyone to give what they can. The San Francisco Firefighters are looking for toys and books for kids, infants through 12 years old. Items must be not be gift wrapped. The SF-Marin Food Bank needs the following: peanut butter, low-sugar cereal, whole-grain rice, pasta, oats, low-sodium soups and stews, tuna and other canned meats, and canned fruits and vegetables. Please no glass, opened items, perishables, or items past their "use before" date. Thank you in advance for any contributions you can make of toys (including books) or food.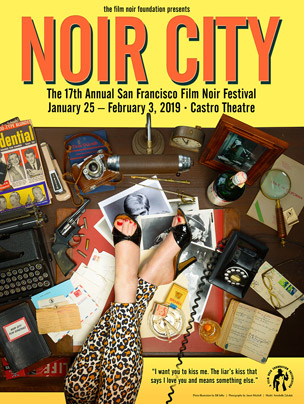 NOIR CITY 17
Enjoy 10 glorious days and nights of noir-themed double features as NOIR CITY returns to the Castro Theatre January 25-February 3, 2019 for its 17th year! See these movies, 24 in all, as they were meant to be seen, on the big screen in one of America's greatest movie palaces! FNF founder and president Eddie Muller will guide you through the festival's dark alleyways.
The NOIR CITY 17 film schedule, program notes, and active links to purchase tickets will be available here, on this website, at 6pm Wednesday, December 19.
NOIR CITY 17 Passport Now on Sale!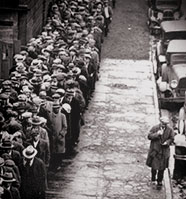 Secure your spot for all the fun with an all-access NOIR CITY 17 PASSPORT for $125 -- now on sale! This all-access festival pass grants the bearer:
✽ Entry to all films during NOIR CITY 17
✽ Separate passport holders' queue for early admittance to the theater for all shows
✽ Opening night passholders' reception (Castro mezzanine) beginning at 6 pm on Jan. 25
Proceeds from the NOIR CITY festival help fund the FNF's restoration and preservation efforts year-round. This is your chance to have a smashing time AND preserve a valuable art form. The perfect holiday gift for the film lover in your family! → PURCHASE HERE
NOTE Passports are non-transferable. All sales are final. Patrons MUST arrive 20 minutes before showtime to be guaranteed a seat!
NOIR CITY 2018 Returned Audiences to the Golden Age of Film Noir
NOIR CITY made a victorious return to its home at the historic Castro Theatre January 26–February 4, 2018 with its largest audience yet, selling out the 1400 seat movie palace on multiple nights. "Film Noir from A to B" took audiences back in time with a program of 12 genuine "A" and "B" double bills, spanning the breadth of the original film noir era, 1941 to 1953. The festival presented 24 classic noirs as they were experienced on their original release, pairing a top-tier studio "A" with a shorter, low-budget second feature, or "B" film. All but one of the films were presented in glorious 35mm.
As always, NOIR CITY producer and FNF founder and president Eddie Muller guided attendees through the blind alleys of NOIR CITY. But he wasn't all alone. Victor Mature's daughter Victoria Mature joined the Czar of Noir on opening night to introduce H. Bruce Humberstone's I Wake Up Screaming (1941), starring her father and Betty Grable. Victoria surprised the crowd with an impromptu rendition of Street Scene while discussing the film's score. As usual the current Ms. NOIR CITY, Annabelle Zakaluk, also joined Eddie on stage during the festival's evening performances. On January 31, Michael Curtiz - A Life in Film, author and FNF board member Alan K. Rode introduced Curtiz' The Unsuspected (1947). The FNF's latest restoration "re-premiered" on Saturday night, February 3—The Man Who Cheated Himself, an independently made noir thriller from 1950 shot on location in San Francisco.
Thanks to the generosity of NOIR CITY patrons and FNF donors, the Foundation was able to fully fund the restoration of this film. Prior to the screening, festival host Muller announced the recipient of this year's $5,000 FNF/Nancy Mysel Legacy Grant—Shahed Dowlatshahi of New York University's Masters of Arts in Moving Image Archiving and Preservation program. A heart-felt acceptance video by Mr. Dowlatshahi screened for the San Francisco audience directly after the announcement.
NOIR CITY then took its show on the road with NOIR CITY satellite festivals in Denver, Hollywood, Austin, Boston, Chicago, Detroit and Washington D.C. We look forward to seeing you again next year for NOIR CITY 17, January 25-February 3, 2019, at the Castro Theatre and at our satellite fests too!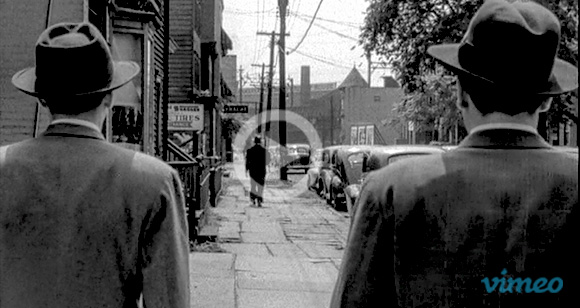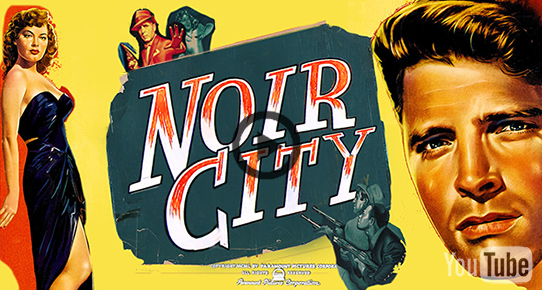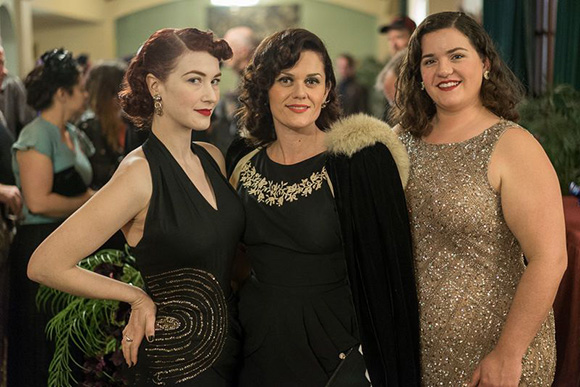 EXTRA! EXTRA! GET YOUR NOIR NEWS HERE!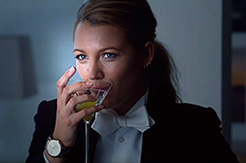 For the latest in noir news from small screen to big screen and beyond, visit our news area. We'll keep you updated on Film Noir Foundation projects and events, film festivals and noir-related happenings in other mediums on our news page, as well as noir and neo-noir titles released on dvd and Blu-ray. Our newly added Now Playing section will keep you up-to-date on noir-tinged entertainment in theatrical release or streaming. Check our monthly tv listings for noir and neo-noir films coming up on Turner Classic Movies.
FNF VIDEO ARCHIVE

Our Video Archives feature an expanding catalog of noir-related video, ranging from exclusive interviews, to festival guest appearances, to short films inspired by film noir.
LATEST ADD After a screening of Kiss of Death (1947), author and festival producer Alan K. Rode reminisced with signer-actress Victoria Mature at the 2018 Arthur Lyons Film Noir Festival in Palm Springs, California. The stunning Ms. Mature related several childhood stories about her iconic father while treating the audience to a memorable vocal styling of a film noir standard. WATCH

Surround yourself in a miasma of social media darkness: join us on Facebook, Tumblr and Twitter for a complete immersion in the world of film noir through film stills, posters, film clips, brilliant insights, and more. Maybe you'll meet a dangerous stranger along the way.