TICKET INFO
NOIR CITY shows will be presented as double bills with a $20 admission price. The Grand Lake Theatre's COVID protocol requires that the staff is masked and vaccinated, with protective shields at their workstations and that all guests must be masked when entering, exiting, or at their seats when not drinking or eating. Guests are not required to be vaccinated.
NOIR CITY 20 PASSPORT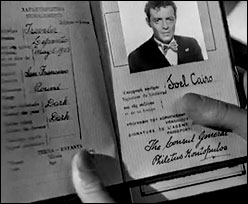 Secure your spot for the 10-day/24-film festival with an all-access pass for $200 + service fee—a $40 savings over the regular ticket price! The Grand Lake Theatre will have a Passholders' queue for early admittance. → PURCHASE PASSPORT
All FNF proceeds from festival ticket sales aid the Foundation's mission of rescuing and restoring noir films.
Passports are non-transferable. All sales are final. Patrons must arrive 30 minutes before showtime to be guaranteed a seat!
DIRECTIONS TO THE GRAND LAKE THEATRE
The Grand Lake Theatre is located at 3200 Grand Avenue and Lake Park Avenue in the Grand Lake neighborhood of Oakland, California.
FROM SAN FRANCISCO, BERKELEY, CONTRA COSTA AREAS
DRIVING
Take Hwy 580 East. Exit at Grand Avenue in Oakland. Turn Left onto Grand Avenue. The theater is one block off the 580 freeway.
BART
From MacArthur Station to AC Transit bus 57 to Grand Lake Theatre (Macarthur Blvd & Grand Avenue).
From 19th St. Station to AC Transit bus #12 to Grand Lake Theatre (Lakepark & Grand Avenue).
BUS
From SF Transbay Terminal: take NL bus. Get off at Macarthur Blvd & Lake Shore Ave and walk two blocks to the Grand Lake Theatre.
FROM HAYWARD, PLEASANTON, FREMONT AREAS
DRIVING
Take Hwy 580 West. Exit at Lakeshore Avenue in Oakland. Go straight onto Lakepark Avenue. The Grand Lake is two blocks away on the right hand side.
BART
Take Richmond BART to 19th Street Station. Transfer to AC Transit bus #12, to Lakepark & Grand Avenue.
PARKING
The City of Oakland parking lot, located under the 580 freeway, has free spaces after 6pm Monday - Friday and all day Saturdays and Sundays. Permit parking is in force Monday through Friday until 6pm. Paid kiosk parking is in force Monday - Saturday until 6pm. Please read signs carefully and park accordingly.
Free spaces can be located in the neighborhood surrounding the theater. There is metered street parking and parking lots around the theater. Kiosk metered parking is enforced from 8:00 am - 6:00 pm Monday - Saturday (check parking kiosks for details). The current rate is $2.00 per hour. In the evening metered spaces are free after kiosk metering ends at 6pm.
2023 NOIR CITY ACCOMMODATIONS
Marriott Oakland City Center

If you're an out-of-towner looking for lodging in Oakland, the Marriott Oakland City Center is offering discounted room rates for NOIR CITY 20 festival guests. For the dates January 19 through January 29, you can get a room with a King bed for $159/night plus tax. Located at 1001 Broadway in downtown Oakland, the hotel is 2.1 miles from the Grand Lake Theatre.
⚠ To take advantage of this special $159/night room rate, your booking must be made on or before Thursday, December 29, 2022.