Take a Break from the Holiday Season with NOIR CITY XMAS
The Film Noir Foundation presents its 5th annual holiday show at San Francisco's majestic Castro Theatre! In addition to a seasonally themed double bill of vintage noir-stained films, host Eddie Muller will be revealing the complete schedule (and hot new poster!) for the eagerly anticipated NOIR CITY 13 festival, coming to the Castro January 16-25, 2015! Enjoy the big-screen premiere of a new documentary showcasing the world renowned NOIR CITY festival (you might be in it!) and catch up on gift shopping for the film noir lover in your life!
The night's features will be: O. Henry's Full House (1952, 117 minutes) This anthology of short stories by America's master of the ironic twist is as entertaining as it is star-studded—featuring juicy roles for Richard Widmark, Anne Baxter, Farley Granger, Marilyn Monroe, Charles Laughton, Jean Peters, and many more. 20th Century-Fox employed several of its most renowned directors—Henry Hathaway, Henry King, Howard Hawks, Henry Koster, and Jean Negulesco—to bring to life such famous O. Henry tales as "The Last Leaf," "The Clarion Call," and the Christmas classic, "The Gift of the Magi." Each segment introduced by John Steinbeck!
Playing with— The Curse of the Cat People (1944, 70 minutes) This sequel to 1942's The Cat People is a stunner on many levels—far from being a horror story, it's a poignant and deeply felt meditation of the pain and loneliness of childhood, and perhaps the most sublime and personal film in the career of legendary producer Val Lewton. Eight-year-old Ann Carter gives a mesmerizing performance as imaginative little Amy, with Simone Simon (the original Cat Woman) reappearing as her imaginary friend. A spellbinding classic, co-directed by Robert Wise. → ADVANCE TICKETS AVAILABLE HERE.
ALL YOU NEED TO KNOW ABOUT THE NOIR CITY FILM FESTIVAL—ENJOY!
NOIR CITY's flagship festival in San Francisco returned to its home at the historic Castro Theatre January 24—February 2, 2014. The 12th edition of the world's most popular film noir festival went international, exploding the long-held belief that noir stories and style are a specifically American phenomenon. Focusing on the years immediately following World War II, this year's NOIR CITY festival featured classic noir films from France, Mexico, Japan, Argentina, Germany, Spain, Norway, and Britain, as well as a complementary sampling of homegrown Hollywood product.

Familiar American stars such as Robert Mitchum, Ava Gardner, Orson Welles, Dan Duryea, and Lizabeth Scott shared the Castro Theatre screen with international superstars Jean Gabin, Olga Zubarry, Toshiro Mifune, Ninón Sevilla and Yves Montand. The 27 films in the series conclusively proved that the cinematic movement known as "Noir" spanned the globe, and its style, sexiness, and cynicism crossed all international borders.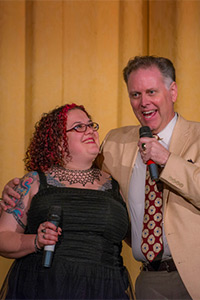 The Film Noir Foundation funded 35mm restoration of Too Late for Tears premiered during opening weekend. The rediscovered classic played on a double bill with the only American film noir directed by a woman, Ida Lupino's The Hitch-Hiker. The FNF also recognized the first participant in its Nancy Mysel Legacy Project that night. The project was created last year by the family of the late film preservationist who'd managed the FNF's inaugural film restorations. The honoree, Ariel Schudson, who has earned a MFA in Moving Image Archive Studies from UCLA, will work with the Foundation on its next restoration project.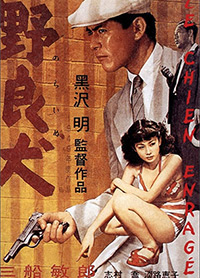 The name Akira Kurosawa doesn't immediately bring to mind film noir. However, Kurosawa often vividly chronicled contemporary urban life in his films. His two forays into noir played at the festival. In his 1948 film Drunken Angel (Yoidore tenshi) an alcoholic doctor and a tubercular gangster forge a cautious friendship, which is soon threatened by the resurfacing of the mobster's boss. In 1949's Stray Dog (Nora inu), a veteran cop guides a young policeman through the underbelly of post-war Tokyo in search of the younger man's stolen gun. Kurosawa regulars Toshiro Mifune and Takashi Shimura co-starred in both.

The NOIR CITY Bus Tour made a triumphant comeback this year. 24 passengers enjoyed a three-hour excursion through some of San Francisco's most cinematic sites (what's left of them!) with their guides Miguel Pendas and Eddie Muller. Attendees watched film clips from classic noir films such as The Maltese Falcon, The Lineup, The Sniper, Thieves' Highway, Dark Passage, House on Telegraph Hill, Vertigo and many more—while visiting locations where the films were actually shot!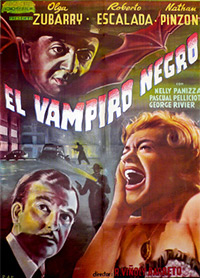 Two Argentinean films that had never previously screened in the U.S. played at NOIR CITY. The stunning 1952 Argentine anthology film Never Open That Door (No abras nunca esa puerta) was adapted from short stories by American pulp noir master Cornell Woolrich. The Black Vampire (El vampiro negro) made in Buenos Aires in 1953, is a remake of Fritz Lang's intense classic M. The latter made its American cinema debut in a brand new subtitled 35mm print funded by the Film Noir Foundation, produced under the supervision of the man responsible for rediscovery of the complete Metropolis, Fernando Martin Peña.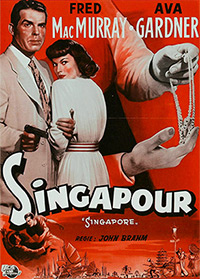 The ten day festival closed with a salute to Hollywood's take on the Far East, a triple bill of the rarely screened Singapore (1947) and two Joseph Von Sternberg films Macao (1952) and The Shanghai Gesture (1942). A closing night party followed on the Castro Theatre's mezzanine. Revelers enjoyed free drinks and a chance to mingle with their fellow NOIR CITY attendees. If you couldn't make our flagship NOIR CITY San Francisco festival, don't despair, we also have satellite festivals in Seattle, Austin, Hollywood, Chicago, Washington D.C. and Portland (OR).
NOIR CITY 12 PHOTOS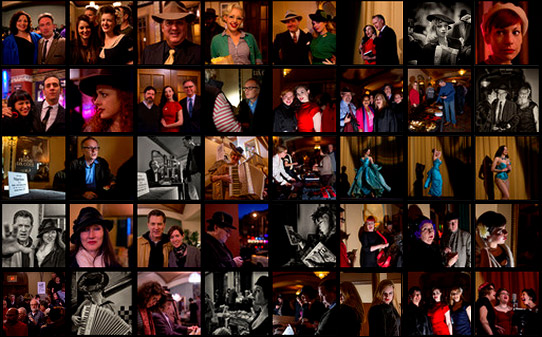 ↑ View photographer David M. Allen's full NOIR CITY 12 coverage here.
To purchase photos, click on an image within the gallery; select "buy" from the drop down menu to be linked to a price sheet. Want to check out photos from a specific date? Check out the links below for each festival date.
The support of NOIR CITY attendees and FNF donors assists the Film Noir Foundation in its mission to preserve noir films and to provide theatrical venues for screening this unique cinematic art form.
You can now attend NOIR CITY festivals in San Francisco, Seattle, Austin, Hollywood, Chicago, Portland (OR), Washington D.C. and Kansas City. Go here for more on the FNF's mission to save film noir for future generations.
EXTRA! EXTRA! Get Your Noir News Here!
The world of noir goes well beyond the boundaries of NOIR CITY. The Film Noir Foundation's news page brings you the latest on film noir screenings and festivals in the U.S. and abroad. We also cover: neo-noirs currently in the theatre; DVD, Blu-ray and digital releases of classic noirs and the films influenced by them; and noir news "beyond the cinema"—current events, fine and performing art pieces and commercial products inspired by the world of noir. We'll also let you know which dark gems are playing during the current month on TCM and FOX Movie Channel on the Film Noir Foundation's TV Listing's page.
NOIR CITY Annual #6
Add this book to your library and help the FNF in its restoration and preservation efforts! NOIR CITY Annual #6 has the best writing on noir available anywhere in the world! Articles for this 248-page book have been selected from 2013's NOIR CITY quarterly e-magazine, showcasing contributing writers Vince Keenan, Jake Hinkson, Imogen Sara Smith, Mark Fertig, Carl Steward, and others, with an introduction by Eddie Muller. Dramatically designed by Michael Kronenberg, the NOIR CITY Annual #6 is a steal at $25. Now available from Amazon. → PURCHASE HERE.

Surround yourself in a miasma of social media darkness: join us on Facebook, Tumblr and Twitter for a complete immersion in the world of film noir through film stills, posters, film clips, brilliant insights and more. Maybe you'll meet a dangerous stranger along the way.