NOIR CITY COMES HOME TO SAN FRANCISCO
NOIR CITY's flagship festival will return to its home at San Francisco's historic Castro Theatre, January 22-31, 2016 for its fourteenth edition. This year's lineup will be unveiled, along with the official poster, at NOIR CITY Xmas on December 16 at the Castro. Passports (full series passes) and tickets to all the festival's double features will go on sale on this website the same evening. We look forward to seeing all of you there!
HIGHLIGHTS FROM LAST YEAR'S NOIR CITY: SAN FRANCISCO
Movie lovers from around the globe had a grand time at the 13th annual edition of NOIR CITY: The San Francisco Film Noir Festival, held at the Castro Theatre, January 16–25, 2015. The program of 25 titles depicted the darker side of marriage, although the audience had a fun and festive time. Check our news page for upcoming NOIR CITY festivals around the country.
On opening night, Hollywood Foreign Press Association board member Yoram Kahana presented Film Noir Foundation president Eddie Muller with a plaque celebrating the restoration of Woman on the Run prior to the film's re-premiere. The HFPA's Charitable Trust provided the FNF with a $65,000 grant to help underwrite the cost of the film's restoration. Kahana, a regular attendee of Muller's noir festivals in Los Angeles since 1999, has been the FNF's leading advocate within the Hollywood Foreign Press Association, which also provided funding last year for the restoration of Too Late for Tears. See sidebar for more on the restoration of Woman on the Run.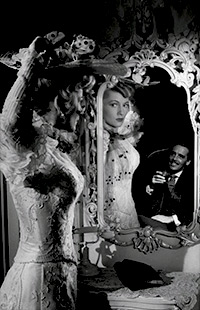 Opening Night's second San Francisco-set noir, Born to Be Bad, kicked off NOIR CITY 13's tribute to actress Joan Fontaine, who admirably displayed her rarely seen wicked side. Audiences were treated to both the American and the more sophisticated European ending of the film. Born co-starred Robert Ryan, who would also be saluted later in the festival. The next day's matinée honored Fontaine's work in Hitchcock's Suspicion and Ida Lupino's The Bigamist. NOIR CITY's salute to the versatile actress ended Saturday night with her murderous turn in the Edwardian noir Ivy. NOIR CITY favorite The Suspect followed featuring one of Charles Laughton's finest performances.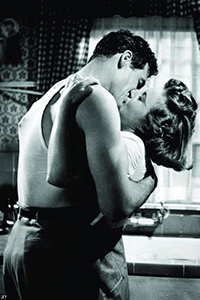 NOIR CITY 13 also paid homage to two of film noir's biggest stars, Robert Ryan and Barbara Stanwyck. Ryan's versatility was well displayed with Tuesday night's double feature, playing a sadistic and paranoid millionaire industrialist patterned on Howard Hughes in Caught and an aging boxer determined to win one more match in The Set-Up. The following night, Ryan played an embittered projectionist chasing after his best friend's wife, an equally embittered Barbara Stanwyck, in Clash by Night. Stanywck turned murderous cop's wife in the second feature of the night, Crime of Passion.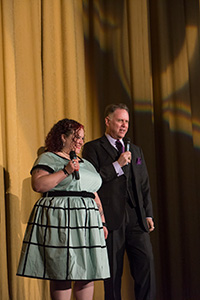 Stanwyck got one more chance to shine on Friday night, playing an abandoned unwed mother turned impostor in No Man of Her Own, adapted from a story by pulp master Cornell Woolrich. Another Woolrich-based film preceded No Man, the FNF-funded 35mm restoration of The Guilty. Prior to the screening, Nancy Mysel Legacy Project recipient, Ariel Schudson, joined FNF president Eddie Muller to discuss the restoration of the film and the importance of film preservation. As always, the proceeds from the NOIR CITY festivals help fund the FNF's restoration projects.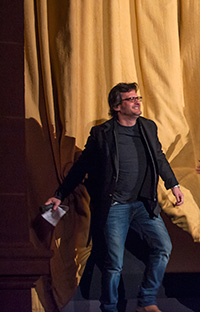 Marriage on and off the screen was the theme for Saturday's matinée. NOIR CITY honored the work of husband and wife filmmakers Andrew and Virginia Stone with a triple bill of their excruciatingly suspenseful noirs. Host Eddie Muller commented prior to its screening that Julie's finale inspired the parody Airplane. Following an afternoon of entertaining independent Hollywood fare, NOIR CITY audiences were treated to two revered cinematic examples of Continental noir, Luchino Visconti's Ossessione and H. G. Clouzot's Les diaboliques. Prior to Ossessione, TCM's Ben Mankiewicz paid NOIR CITY a surprise visit. He joined Muller on stage for a glass of wine and to introduce the film.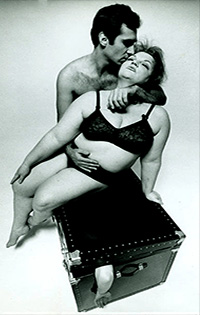 NOIR CITY 13 closed with its most disturbing double feature ever, pairing John Frankenheimer's 1966 hallucinatory sci-fi noir Seconds with the brutal and blackly comedic Honeymoon Killers (1969). Rock Hudson's role in Seconds, as a discontented middle-aged businessman who is "reborn" as a handsome artist through the efforts of a mysterious corporation, is the most nuanced and painful performance of his career. Shirley Stoler and Tony Lo Bianco give equally fearless performances in Honeymoon as the murderous real life lovers Martha Beck and Ray Fernandez who defrauded and murdered women Fernandez met through lonely hearts clubs.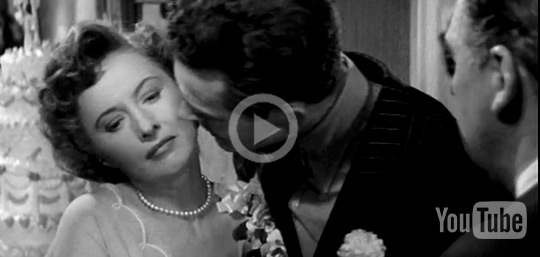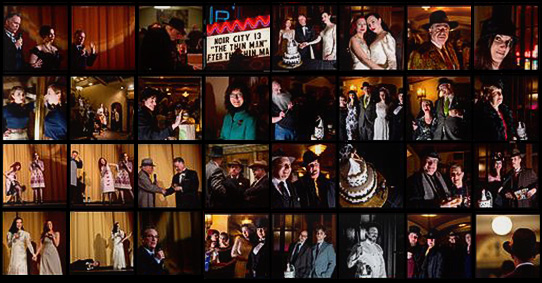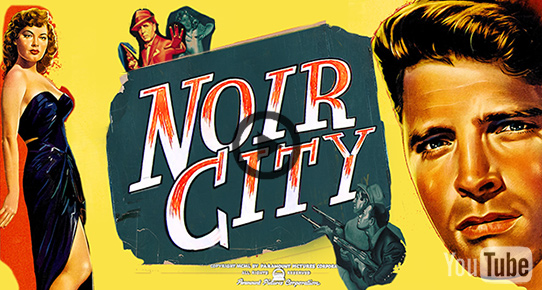 ALL FOR A GOOD CAUSE
The continued support of NOIR CITY festival attendees aids the Film Noir Foundation in their mission to preserve film noir and create a theatrical audience for films like Woman on the Run and The Guilty. NOIR CITY patrons and FNF donors are directly responsible for the availability of nearly lost 35mm prints for repertory theater screenings across the US. Go here for more on the FNF's mission to save noir films for future generations. Couldn't make it to San Francisco for NOIR CITY 13? We'll see you at one of our satellite festivals during 2015 in Hollywood, Austin, Chicago, Portland (OR), Washington D.C. and Kansas City.
NOIR CITY Annual #7
Delve deep into the best writing today on film noir with this handsomely illustrated compendium from 2014's quarterly NOIR CITY e-magazines. This volume includes essays, interviews, profiles, tributes, and reviews of classic and modern noir films by Vince Keenan, Jake Hinkson, Imogen Sara Smith, Christa Faust, Don Stradley, Wallace Stroby, Alan K. Rode, and others, plus articles from editor-in-chief Eddie Muller. Beautifully designed by the talented Michael Kronenberg. And, when you purchase the NOIR CITY Annual 7, you'll be helping fund the FNF's restoration efforts. → Now available for purchase on Amazon.com.
EXTRA! EXTRA! Get Your Noir News Here!
The world of noir goes well beyond the boundaries of NOIR CITY. The Film Noir Foundation's news page brings you the latest on film noir screenings and festivals in the U.S. and abroad. We also cover: neo-noirs currently in the theatre; DVD, Blu-ray and digital releases of classic noirs and the films influenced by them; and noir news "beyond the cinema"—current events, fine and performing art pieces, and commercial products inspired by the world of noir. We'll also let you know which dark gems are playing during the current month on TCM and FOX Movie Channel on the Film Noir Foundation's TV Listing's page.
FNF VIDEO ARCHIVES
Our Video Archives feature an expanding catalog of noir-related video, ranging from exclusive interviews, to festival guest appearances, to short films inspired by film noir.

LATEST ADDAuthor J.R. Jones spoke with host-producer Alan K. Rode about his new biography, THE LIVES OF ROBERT RYAN, after a screening of On Dangerous Ground (1951) at the 2015 Arthur Lyons Film Noir Festival in Palm Springs. WATCH.
Get Your Official FNF Gear!
If you too think "It's a bitter little world," then share our nihilistic philosophy with official Film Noir Foundation merchandise, emblazoned with our favorite downbeat quote: t-shirts; covers for your iProducts, Kindles and laptops; and most importantly, barware. Not so bitter, but still want to show your FNF love? We have a selection of items featuring just the FNF logo. Here's your chance to buy cool stuff and save films from extinction. Proceeds from every purchase go directly to the Film Noir Foundation's campaign to rescue, restore, and preserve at-risk examples of America's greatest film genre! VIEW OUR LATEST MERCHANDISE.

Surround yourself in a miasma of social media darkness: join us on Facebook, Tumblr and Twitter for a complete immersion in the world of film noir through film stills, posters, film clips, brilliant insights, and more. Maybe you'll meet a dangerous stranger along the way.