JOIN US ON WEDNESDAY, DECEMBER 14, as the Film Noir Foundation celebrates the holidays by tossing aside the Christmas treacle for a headlong dive into a double bill of danger and darkness. In addition to the seasonally themed program at San Francisco's Castro Theatre, host Eddie Muller will be revealing the theme and complete film schedule for the eagerly anticipated NOIR CITY 15 festival coming to the Castro Theatre January 20-29, 2017. And, for your shopping pleasure, NOIR CITY 15 Passports (all-access festival passes) will be available for sale at NOIR CITY Xmas—just visit the FNF's merchandise table on the Castro mezzanine.
→ Tickets for NOIR CITY XMAS are available online and can also be purchased at the Castro Theatre box office on the day of the show. BUY TICKETS
CASH ON DEMAND
7:30 PM
In this stunningly suspenseful noir take on "A Christmas Carol, " Peter Cushing (in perhaps the finest performance of his long career) plays a Scrooge-like bank manager caught in a deadly game of cat-and-mouse with a charming and merciless thief (an equally great André Morell) who's devised a devious plan for a holiday heist. Known mainly for its horror films, this is one of the greatest movies ever produced by Britain's legendary Hammer Films, presented in a superb, pristine 35mm print from Sony Pictures. The perfect antidote to Yuletide schmaltz!
1961, England. Hammer Films. 84 min. Scr. David T. Chantler, Lewis Greifer. Dir. Quentin Lawrence
THE ICE HARVEST
9:30 PM
Wily mob lawyer Charlie Arglist (John Cusack) and his shifty accomplice Vic (Billy Bob Thornton) conspire to steal $2 million from Wichita's sleaziest gangster (Randy Quaid) on Christmas Eve. But as an ice storm descends on the region, Charlie's associates prove more treacherous than the forces of nature. Scott Phillips' classic neo-noir novel is adapted by a pair of ace screenwriters into a race-against-the-clock thriller, shot through with streaks of hilariously mordant black humor. Featuring Connie Nielsen as one of the sexiest modern femmes fatales.
2005. USA. Focus Features. 92 min. Scr. Richard Russo, Robert Benton. Dir. Harold Ramis
HOLIDAY GIVING AT NOIR CITY XMAS
You've got a chance to prove that it's not such a bitter little world after all at this year's NOIR CITY Xmas. We will have collection bins for both the San Francisco Firefighters Toy Program and the SF-Marin Food Bank at the event, and we encourage everyone to give what they can. The San Francisco Firefighters are looking for toys for kids--infants through 12 years old. Toys must be un-gift-wrapped. The SF-Marin Food Bank needs the following: peanut butter, low-sugar cereal, whole-grain rice, pasta, oats, low-sodium soups and stews, tuna and other canned meats, and canned fruits and vegetables. Please no glass, opened items, perishables, or items past their "use before" date.
2017 NOIR CITY ACCOMMODATIONS - HOTEL REX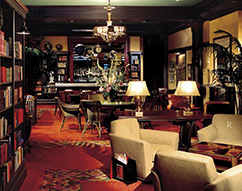 If you're an out-of-towner looking for lodging in the City, or a local wanting to turn a night at the festival into an easy getaway, our friends at the Hotel Rex are offering a 15% discount off regular room rates for festival guests during NOIR CITY 15, January 20-29, 2017. Located in Union Square at 562 Sutter between Mason and Powell, you can get to the festival's Castro Theatre in about 20 minutes via MUNI underground, street car, or cab. Amenities at the Hotel Rex include complimentary Wi-Fi, upgraded to 100 MB, and flat-screen TVs with iPod docks in every room as well as a complimentary glass of wine from 5:00-6:00 each evening. For something special, treat yourself to the hotel's lovely Library Bar offering handcrafted cocktails and a menu of American classics.
BOOK HERE for your special festival rate.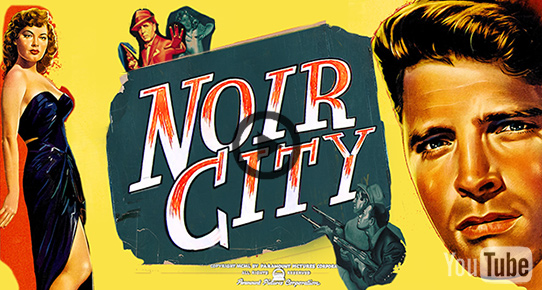 2016 NOIR CITY 14 PHOTOS
NOIR CITY Annual #8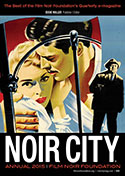 Here's the print version you've been waiting for—the best of the best from 2015's NOIR CITY e-magazine contributors. Add this volume to your collection—essays, interviews, profiles, tributes, and reviews of classic and modern noir films by Ray Banks, David Corbett, Christa Faust, Vince Keenan, Jake Hinkson, Terrill Lee Lankford, Kim Morgan, Imogen Sara Smith, and others, including Murder She Made/The Exceptional Career of Joan Harrison from editor-in-chief Eddie Muller. Book layout and design by Michael Kronenberg, of course. And, when you purchase the NOIR CITY Annual 8, you'll be helping fund the FNF's restoration efforts. → Now available for purchase on Amazon.com.
EXTRA! EXTRA! Get Your Noir News Here!
The world of noir goes well beyond the boundaries of NOIR CITY. The Film Noir Foundation's news page brings you the latest on film noir screenings and festivals in the U.S. and abroad. We also cover: neo-noirs currently in the theatre; DVD, Blu-ray and digital releases of classic noirs and the films influenced by them; and noir news "beyond the cinema"—current events, fine and performing art pieces, and commercial products inspired by the world of noir. We'll also let you know which dark gems are playing during the current month on Turner Classic Movies on the Film Noir Foundation's TV Listing's page.
FNF VIDEO ARCHIVES

Our Video Archives feature an expanding catalog of noir-related video including exclusive interviews to festival guest appearances, and short films inspired by film noir.
LATEST ADD Alan K. Rode's interview with actor Claude Jarman, Jr. following a screening of Intruder in the Dust at the 2016 Arthur Lyons Film Noir Festival in Palm Springs. WATCH.

Surround yourself in a miasma of social media darkness: join us on Facebook, Tumblr and Twitter for a complete immersion in the world of film noir through film stills, posters, film clips, brilliant insights, and more.