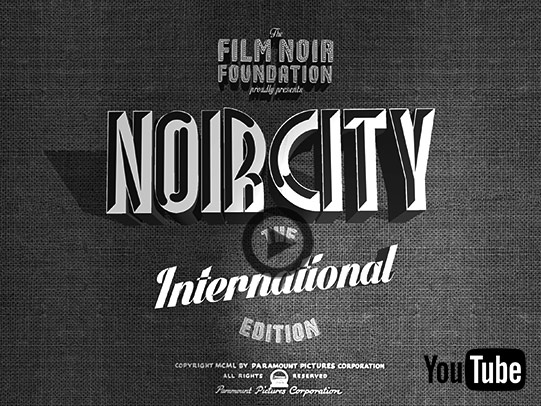 ↑ Joe Talbot's astounding trailer for NOIR CITY 12
NOIR CITY 12: IT'S A BITTER LITTLE WORLD!
NOIR CITY's flagship festival in San Francisco returns to its home at the historic Castro Theatre January 24—February 2, 2014. The 12th edition of the world's most popular film noir festival is going international, exploding the long-held belief that noir stories and style are a specifically American phenomenon. "Our desire to expand the scope of the festival has resulted in our most ambitious program ever," says festival impresario and host Eddie Muller. "Its overall impact will, I suspect, change many people's long-standing ethnocentric preconceptions about film noir."

Focusing on the years immediately following World War II, this year's NOIR CITY festival features classic noir films from France, Mexico, Japan, Argentina, Germany, Spain, Norway, and Britain, as well as a complementary sampling of homegrown Hollywood product. Familiar American stars such as Robert Mitchum, Ava Gardner, Orson Welles, Dan Duryea, and Lizabeth Scott will share the Castro Theatre screen with international superstars Jean Gabin, Olga Zubarry, Toshiro Mifune, Ninón Sevilla and Yves Montand. The 27 films in the series will conclusively prove that the cinematic movement known as "Noir" spanned the globe, and its style, sexiness, and cynicism crossed all international borders.
The festive, convivial atmosphere for which NOIR CITY is known will also take on an international flavor, highlighted by live music and complimentary libations in accord with the festival's multicultural programming. So join us on our globetrotting adventure— you'll have fun and do good: the dollars you spend at the festival go towards our year-round restoration efforts.
Skip the lines. Buy a NOIR CITY 12 Passport.
The Passport grants the bearer entry to all 27 films in this year's program, to the 6 p.m. opening-night pass holders' reception on the Castro mezzanine and early admittance to the theater for all shows—all for the incredible price of $120. It's also the perfect holiday gift for the noir lover in your life! Passports can be purchased through Brown Paper Tickets, Patrons can also purchase tickets for the low price of $10 per program at the Castro box office on the day of show.
→ Check the Program Guide for times, tickets and program notes.
Friday, Jan 24 - INTERNATIONAL INTRIGUE
Saturday, Jan 25, Matinée - MEXICO
Saturday, Jan 25, Evening - RESTORATIONS
Sunday, Jan 26 - JAPAN
Monday, Jan 27 - GERMANY
Tuesday, Jan 28 - SPAIN and NORWAY
Wednesday, Jan 29 - BRITAIN
Thursday, Jan 30 - ARGENTINA
Friday, Jan 31 - SOUTH AMERICA
Saturday, Feb 1, Matinée - FRANCE
Saturday, Feb 1, Evening - FRANCE
Sunday, Feb 2 - THE FAR EAST, US-STYLE
All non-U.S. films in their original language with English subtitles. All films in 35mm except where indicated.
The NOIR CITY Bus Tour Returns!
Wednesday, January 29—enjoy a three-hour excursion through some of San Francisco's most cinematic sites (what's left of them!) with your guides Miguel Pendas and Eddie Muller. View film clips from classic noir films such as The Maltese Falcon, The Lineup, The Sniper, Thieves' Highway, Dark Passage, House on Telegraph Hill, Vertigo and many more—while visiting locations where the films were actually shot! If the weather is accommodating there will be several stops for short up-close walks, so dress for the weather. The bus will roll, rain or shine! The journey begins promptly at noon in front of San Francisco's City Hall, and returns to the same spot at approximately 3:00 pm. Seating in the comfortable touring bus is limited to 24 passengers. This is the only NOIR CITY bus tour during this year's film festival, so book early! $85 per person. Tickets are available here.
NOIR CITY 12 Accommodations
Planning ahead for NOIR CITY 12? If you're an out-of-towner looking for lodging in the City by the Bay or you're a local looking to turn a night at the festival into a romantic getaway, our friends at the Prescott Hotel have an offer you can't refuse—a special nightly rate of $155 per night (before taxes) exclusively for NC12 attendees. This boutique hotel, located only two blocks from Union Square and housed in the city's original Press Club, possesses a vintage feel and is only a short ride by Metro or taxi from the Castro Theatre. The Prescott will be providing classic film noir entertainment to its guests at their nightly wine hour throughout the festival as well as a complimentary Pinot Noir flight with dinner (when NOIR CITY is mentioned) at the adjacent (and acclaimed) Postrio restaurant.
→ The special NOIR CITY rate is available exclusively through this direct link.
EXTRA! EXTRA! Get Your Noir News Here!
The world of noir goes well beyond the boundaries of NOIR CITY. The Film Noir Foundation's news page brings you the latest on film noir screenings and festivals in the U.S. and abroad. We also cover: neo-noirs currently in the theatre; DVD, Blu-ray and digital releases of classic noirs and the films influenced by them; and noir news "beyond the cinema"—current events, fine and performing art pieces and commercial products inspired by the world of noir. We'll also let you know which dark gems are playing during the current month on TCM and FOX Movie Channel on the Film Noir Foundation's TV Listing's page.
NOIR CITY Annual #6
Add this book to your library and help the FNF in its restoration and preservation efforts! NOIR CITY Annual #6 has the best writing on noir available anywhere in the world! Articles for this 248-page book have been selected from 2013's NOIR CITY quarterly e-magazine, showcasing contributing writers Vince Keenan, Jake Hinkson, Imogen Sara Smith, Mark Fertig, Carl Steward, and others, with an introduction by Eddie Muller. Dramatically designed by Michael Kronenberg, the NOIR CITY Annual #6 is a steal at $25. Now available from Amazon. → PURCHASE HERE.
The Film Noir Foundation has joined forces with Back Alley Noir to bring film noir devotees the very latest news. When readers have a question for the Foundation or want to post their own noir news, they can do so via BAN's discussion board , the official discussion board for the FNF.
Follow us on Facebook and Twitter. If you haven't signed up, maybe you should. Maybe you'll meet someone who will betray you and leave you for dead on the internet. At the least, you'll have access to a vast repository of noir posters and photos.