lived up to that billing, and more, during its triumphant sixth edition in San Francisco, January 25 through February 3, 2008. Neither the brutally inclement weather, nor the traffic-stopping logistics of having Gus van Sant and (NC4 special guest) Sean Penn shooting a film right outside the theater could deter record crowds from packing the Castro Theatre during the 10-day festival.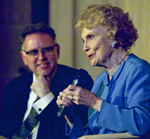 Highlights included: the radiant opening night appearance of Joan Leslie with two of her best films, Repeat Performance and The Hard Way — she delighted the audience with her sharp memory, quick wit, and charming humility; a completely sold-out (1,407 seats) Saturday night program, the most electric evening of the festival, which featured a "re-premiere" of the 1951 classic The Prowler, freshly restored to pristine condition through the joint efforts of the Film Noir Foundation and the UCLA Film and Television Archive. The evening was kick-started in ribald fashion by author James Ellroy, and the screening was attended by Christopher Trumbo, son of the legendary Dalton Trumbo, screenwriter of The Prowler and the evening's co-feature, Gun Crazy.
The program also featured the return to the Castro stage – and screen – of actress Marsha Hunt, who was in attendance for the world premiere of Eddie Muller's new film The Grand Inquisitor, in which she stars. The 20-minute "noir fairy tale" drew an enthusiastic response from the crowd, which gave a generous ovation to Muller, Marsha Hunt, and her young costar, Leah Dashe.
Appreciative audiences during the week were treated to a range of films chosen to display a wide range of "noir," including many rarities viewable ONLY on the Castro's big screen, thanks to the auspices of the Film Noir Foundation.20th Century–Fox sponsored an evening program (Hangover Square and Dangerous Crossing) to celebrate the continuation of its popular Film Noir DVD Collection.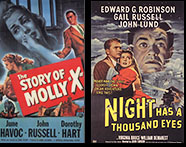 The festival proudly unveiled brand new prints of several titles that had disappeared from movies screens over the past several decades: Night Has a Thousand Eyes, Woman In Hiding, The Story of Molly X, and Face Behind the Mask.


NBC11 • Interview with Eddie Muller by Josh Keppell

KQED • Michael Krasny interviews Eddie Muller and Marsha Hunt on Forum Jan. 22 broadcast

Out of the Past •Interview with Eddie Muller

Lady Monster • Interview with Eddie Muller
TCM • A Recap of the San Francisco Noir Festival
OhMyNews • San Francisco Film Noir Fest Knocks 'Em Dead
SF 360 • Michael Fox interview with Alan Rode
KQED • Noir City 6 Festival Report
The Evening Class • Michael Guillén interviews Alan Rode
Variety • Film Noir Inspires 99 Cent Chef
SIFF Blog • California Is Wonderful, if You're a Grapefruit; Noir and a Whole Lot More; Noir City takes on the Emerald City (Noir City Seattle)
SF Bay Guardian • Noir or Not? Noir City 6's Incarnation Revives the Night Life
The Daily Californian • Film Festival Shows That Noir Is More Than Black and White
East Bay Express • Happy New Noir
Bay Area Reporter • Caution, Dark Times Ahead; Dark Doings Continue at the Castro
Writing in the Dark Blog • Masks and Voices at Noir City 6
Escape and Suspense • Noir City
Civic Center Blog • Joan Leslie at the NC Festival; A Hell of a Woman
San Francisco Examiner • Come to Noir City
BeyondChron • Noir City: Star Joan Leslie at The Castro