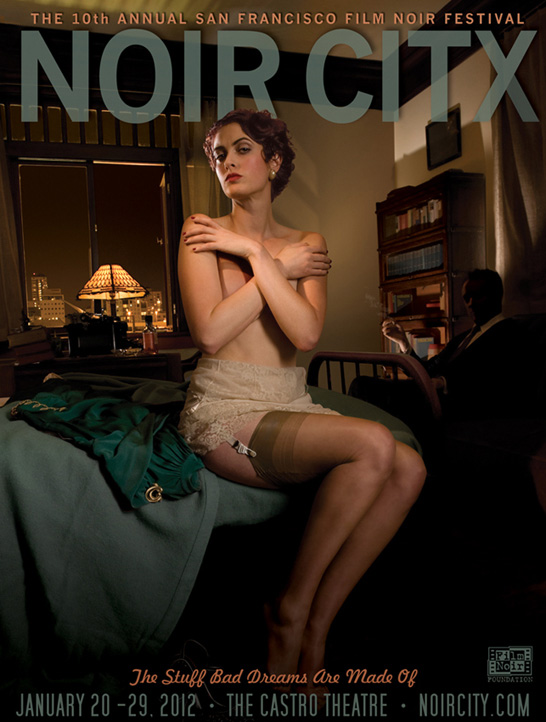 NOIR CITY celebrated its 10th anniversary as the world's most popular film noir festival with a 10-day extravaganza featuring San Francisco treats, a Dashiell Hammett marathon, freshly preserved 35mm rarities, by-popular-demand encore screenings, and super special guest star ANGIE DICKINSON.

Among the rarities presented at NOIR CITY X, a brand new 35mm print of 1949's The Great Gatsby, starring Alan Ladd as F. Scott Fitzgerald's legendary lovelorn hero. The film has been buried for decades, but Muller's perseverance persuaded Universal Pictures to strike a preservation print for NOIR CITY. The studio also provided a brand new 35mm print of 1954's Naked Alibi, starring noir's favorite bad girl, Gloria Grahame. The Film Noir Foundation also funded a new 35mm preservation of the "lost" 1946 classic Three Strangers, which had no viewable prints and has never been released on DVD. NOIR CITY was also proud to have been chosen to premiere the Film Foundation's recently completed preservation of the superb 1950 Michael Curtiz film The Breaking Point, starring John Garfield.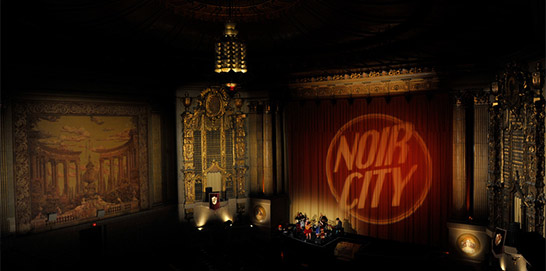 Photographer David M. Allen's coverage of NOIR CITY X and the NOIR CITY Nightclub is available here.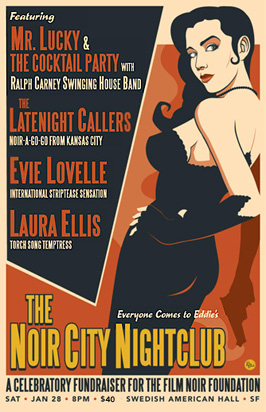 Everyone Comes to Eddie's,
The NOIR CITY Nightclub
Swinging lounge tunes, torrid torch songs, classic burlesque, and a helping of neo-noir rock-and-roll was the bill of fare Saturday night, January 28, 2012, as the NOIR CITY film festival broke out of the majestic Castro Theatre to present Everyone Comes to Eddie's, a swanky, sexy, and slightly sinister soiree in which the Swedish American Hall was transformed into a vintage 1940s-era nightclub. Performances included the mid-century musical stylings of Mr. Lucky and the Cocktail Party with Ralph Carney, vintage noir-inspired torch songs from the luscious Laura Ellis, spectacular striptease from world-renowned burlesque beauty Evie Lovelle, and the dark, mysterious, and danceable sounds of Kansas City's The Latenight Callers, described as "the house band at David Lynch's pool party."
2012 NOIR CITY 10 PRESS
Watch your back again 'Noir City X' concludes at the Castro Theatre — Tavo Amador, Bay Area Reporter
Noir City Report: 2 by Sam Fuller — Licoln Sepector, BayFlicks
Noir City organizer Eddie Muller on the evolution of the genre he loves — Randy Dotinga, The Christian Science Monitor
Dashiell Hammett at Noir Film Festival — Thomas Gladysz, Huffington Post
Unfaithfully Yours! --Classic Overtures at Noir City X — Sean Martinfield, SF Classical Music, San Francisco Examiner
Naked Noir City — Jana Bébarová & Milan Hain, Film Noir Blog
Night and Noir City — Jana Bébarová & Milan Hain, Film Noir Blog
Cry of Noir City — Jana Bébarová & Milan Hain, Film Noir Blog
Noir City Confidential — Jana Bébarová & Milan Hain, Film Noir Blog
Noir City Conquest — Jana Bébarová & Milan Hain, Film Noir Blog
Fedoras and Nightmare Prophesies at Noir City — Jason Novak,The Bay Citizen
Op-Ed: Angie Dickinson honored guest at Noir City film festival — Jonathan Farrell, Digital News
Female trouble, Noir City X raises a glass to cinematic bad girls — Matt Sussman, San Francisco Bay Guardian
Angie Dickinson: Sweet memories of Sinatra, Wayne — G. Allen Johnson, San Francisco Chronicle
S.F. Film Noir Festival celebrates Dashiell Hammett — G. Allen Johnson, San Francisco Chronicle
Watch Your Back! Noir City X takes over the Castro Theatre — Tavo Amador, Bay Area Reporter
NOIR CITY X: ANGIE! — The Evening Class
Film Noir Festival NOIR CITY X Takes Over San Francisco's Castro Theatre — Amoeba Blog
Interview with Eddie Muller, the Czar of Noir — Czech Film Noir Blog (English version)
Pete, Postbox, San Francisco: Noir City X — MSN
NOIR CITY 9 makes Bayflick's list of top movie going experiences of 2011 — Bayflicks
To commemorate its 10th anniversary, NOIR CITY returned to the source. The NOIR CITY X poster was created in the San Francisco apartment where Dashiell Hammett, between 1927-29, wrote Red Harvest, The Dain Curse, and The Maltese Falcon, laying the foundation for film noir. Ms. NOIR CITY 2012, Helena Bianca Stoddard, portrays The Maltese Falcon's duplicitous Brigid O'Shaughnessy, in a variation on a scene cut from all filmed versions of the book. When one of the ten $1000 bills he's been paid to locate the Black Bird goes missing, Sam Spade demands that Brigid undress to prove she's hasn't stolen the money.
CREDITS Eddie Muller (concept, slideshow); Bill Selby (art direction); David M. Allen (photography); Helena Bianca Stoddard (Brigid O'Shaughnessy); Melissa Wagner (hair and makeup); Valentine (wardrobe); Leonardo (décor); Artie Shaw (music: "Nightmare")