10 DAYS OF HEISTS, HOLD-UPS, AND SCHEMES GONE AWRY
The 2017 incarnation of the world's most popular film noir festival returned to the legendary Castro Theatre January 20–29 with 24 exceptional films exploring, in films both suspenseful and comedic, the desperate lengths to which people will go to beat the system and hit the big time. "The Big Knockover" was a veritable history of the heist film, opening with the black-and-white Hollywood classics Criss Cross (1949) and The Asphalt Jungle (1950) and moving through the decades to a stunning closing night double feature of Before The Devil Knows You're Dead (2007) and Victoria (2015). Films in the festival came from the United States, England, Japan, France, Italy, Argentina, and Germany and spanned eight decades of filmmaking.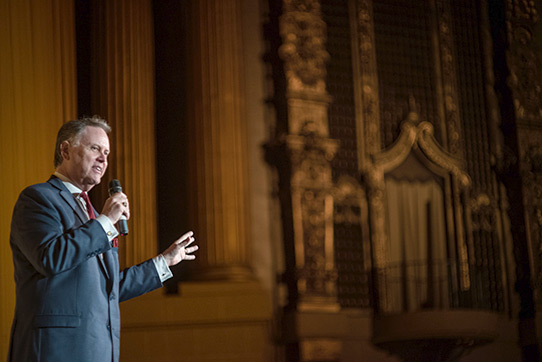 Festival producer, co-programmer and host Eddie Muller clarified that despite the change of pace from previous year's NOIR CITY festivals, "This doesn't mean we've run out of films from the original noir movement. That remains our primary focus, and it is films of that period the Film Noir Foundation is dedicated to rescuing and restoring. But this particular theme—heist films—is much richer when the parameters are expanded to include films from different countries and eras. By making that leap, a more intriguing experience emerges for those loyal patrons who join us for the full ride."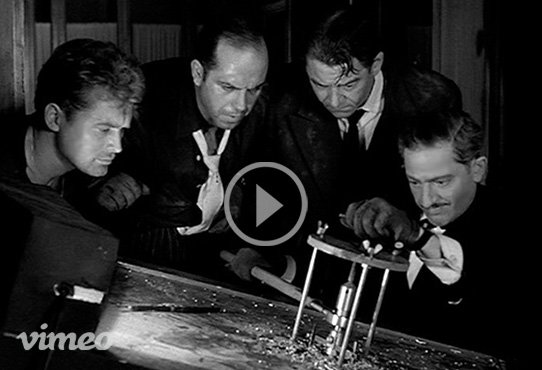 2017 Nancy Mysel Legacy Grant Recipient Announced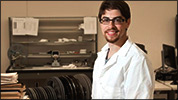 As part of the FNF's dedication to rescuing and restoring films noir, we established The Nancy Mysel Legacy Grant –created in film preservationist Nancy Mysel's honor and funded by the Mysel family. Each year, $5,000 in funding goes to a deserving students involved in cinema restoration. On January 28, at NOIR CITY 15, festival host Eddie Muller announced the recipient of this grant —Robert Anen of NYU's Tisch School of the Arts. An "acceptance" video by Mr. Anen was screened for the San Francisco audience. Read about Robet Anen's lost film discovery in this NY Times article from October 2016: A Lost Snippet of Film History, Found in a Home Movie shot in 1964.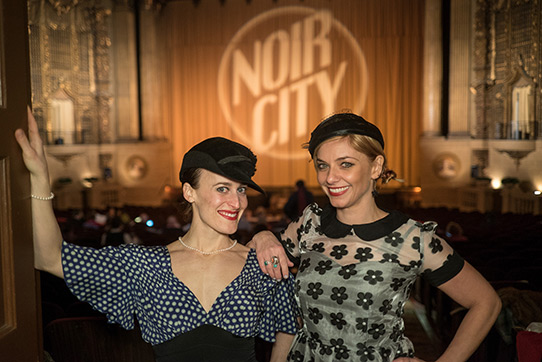 2017 NOIR CITY 15 PRESS
Noir City 15 Hijacked by 10 days of Heist Films
"On Friday, Jan. 20, the dark times begin. We're not referring to the presidential inauguration, but rather the annual NOIR CITY festival, which celebrates its milestone 15th edition with an ambitious slate of heist movies that serves as a virtual history of the genre." MORE
Lincoln Spector at NOIR CITY, Bayflicks.net
Sunday, Jan. 22
"Americans invented Film Noir, but the French named it. So it seems appropriate that on the first Sunday of this year's festival, NOIR CITY presented a double bill of French crime thrillers." MORE
Saturday, Jan. 21
"Festival head Eddie Muller started his introduction [to Four Ways Out] imitating Marlon Brando in The Godfather. Then he told us of his struggles to get the one existing, English-subtitled print of the 1951 film. After all sorts of troubles, the print finally showed up on Muller's doorstep three days before the screening." MORE
NOIR CITY Returns to the Castro
"NOIR CITY focuses, as you might imagine, on film noir, but with enough tweaks to irritate purists and excite everyone else." MORE
Making Out Like Bandits
"Hard-nosed detectives and dishy dames reign as the San Francisco Film Noir Festival brings seven decades' worth of crime drama to the Castro Theatre." MORE
Noir City XV #1: Criss Cross Will Make Ya JUMP JUMP!
"When Robbie Burns said 'The best-laid schemes o' mice an 'men/Gang aft agley,' he was talking about the inhabitants of NOIR CITY15. That ol' concept of 'honor amongst thieves' has credence only if you're commiting the robbery by yourself, and sometimes not even then." MORE
Sights & Sounds: Sara Maamouri
Documentary filmmaker Sara Maamouri talks with KALW's Jen Chien about three great events happening around the Bay this weekend including the NOIR CITY 15 opening night screening of The Asphalt Jungle.
"It's a great ensemble cast, and I believe Marilyn Monroe's first film. ... It's a great escapism thing for me. I love watching heist films." MORE
NOIR CITY Film Fest - Bay Area Reporter, Tavo Amador
Part 1
"The genre's dark worldview seems especially appropriate now." MORE
Part 2
"The portrayals of dark and scary times on screen move beyond the classic era to more recent choice examples from Eddie Muller.... " MORE
NOIR CITY: The Great San Francisco Festival of Film Noir
"Being noir, you might not expect many of these heists to end well. And some are from noir's Perfect Crime sub-genre – they're going to get away with the elaborately planned big heist EXCEPT FOR ONE THING." MORE
Now Playing! The Scene of the Crime's the Thing at NOIR CITY
"Muller's gone all in on the heist film, redrawing NOIR CITY'S borders beyond American film and even venturing into the 21st century to program "The Big Knockover" (Jan. 20–29 at the Castro)." MORE
Expect a Hold Up at NOIR CITY 15 - Preview and Interview with Eddie Muller
"Once you get past the stylistics of [film noir] — black and white, shadows —it's about desperate people doing desperate things in an effort to beat the system because the deck is stacked against them. That's the premise of every heist movie ever made." MORE
NOIR CITY 15: The Big Knockover:
"NOIR CITY 15's lineup explores the desperate lengths to which people will go to beat the system and hit the big time, charting a veritable history of the heist film from black & white Hollywood classics such as Criss Cross (1949) and The Asphalt Jungle (1950) to stunning contemporary thrillers like El Aura (2005) and Victoria (2015)." MORE
2017's First Film Festivals
"One of the most enjoyable festivals in the Bay Area, Eddie Muller's wallow into the dark side of movies always entertains. This year's theme: The Big Knockover: 24 movies about well-planned crime–hold-ups, heists, and so on–that never seem to be as well-planned as the criminals thought." MORE

Surround yourself in a miasma of social media darkness: join us on Facebook, Tumblr and Twitter for a complete immersion in the world of film noir through film stills, posters, film clips, brilliant insights, and more. Maybe you'll meet a dangerous stranger along the way.