NOIR CITY 12: IT'S A BITTER LITTLE WORLD!
NOIR CITY's flagship festival in San Francisco returned to its home at the historic Castro Theatre January 24—February 2, 2014. The 12th edition of the world's most popular film noir festival went international, exploding the long-held belief that noir stories and style are a specifically American phenomenon. Focusing on the years immediately following World War II, this year's NOIR CITY festival featured classic noir films from France, Mexico, Japan, Argentina, Germany, Spain, Norway, and Britain, as well as a complementary sampling of homegrown Hollywood product.

Familiar American stars such as Robert Mitchum, Ava Gardner, Orson Welles, Dan Duryea, and Lizabeth Scott shared the Castro Theatre screen with international superstars Jean Gabin, Olga Zubarry, Toshiro Mifune, Ninón Sevilla and Yves Montand. The 27 films in the series conclusively proved that the cinematic movement known as "Noir" spanned the globe, and its style, sexiness, and cynicism crossed all international borders.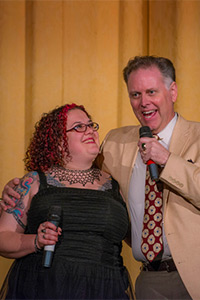 The Film Noir Foundation funded 35mm restoration of Too Late for Tears premiered opening weekend, playing on a double bill with the only American film noir directed by a woman, Ida Lupino's The Hitch-Hiker. The FNF also recognized the first participant in its Nancy Mysel Legacy Project that night. The project was created last year by the family of the late film preservationist who'd managed the FNF's inaugural film restorations. The honoree, Ariel Schudson, who has earned a MFA in Moving Image Archive Studies from UCLA, will work with the Foundation on its next restoration project.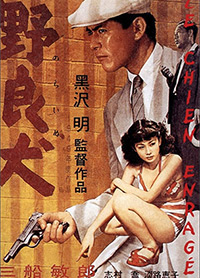 The name Akira Kurosawa doesn't immediately bring to mind film noir. However, Kurosawa often vividly chronicled contemporary urban life in his films. His two forays into noir played at the festival. In his 1948 film Drunken Angel (Yoidore tenshi) an alcoholic doctor and a tubercular gangster forge a cautious friendship, which is soon threatened by the resurfacing of the mobster's boss. In 1949's Stray Dog (Nora inu), a veteran cop guides a young policeman through the underbelly of post-war Tokyo in search of the younger man's stolen gun. Kurosawa regulars Toshiro Mifune and Takashi Shimura co-starred in both.

The NOIR CITY Bus Tour made a triumphant comeback this year. 24 passengers enjoyed a three-hour excursion through some of San Francisco's most cinematic sites (what's left of them!) with their guides Miguel Pendas and Eddie Muller. Attendees watched film clips from classic noir films such as The Maltese Falcon, The Lineup, The Sniper, Thieves' Highway, Dark Passage, House on Telegraph Hill, Vertigo and many more—while visiting locations where the films were actually shot!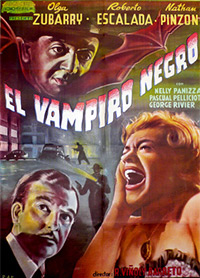 Two Argentinean films that had never previously screened in the U.S. played at NOIR CITY. The stunning 1952 Argentine anthology film Never Open That Door (No abras nunca esa puerta) was adapted from short stories by American pulp noir master Cornell Woolrich. The Black Vampire (El vampiro negro) made in Buenos Aires in 1953, is a remake of Fritz Lang's intense classic M. The latter made its American cinema debut in a brand new subtitled 35mm print funded by the Film Noir Foundation, produced under the supervision of the man responsible for rediscovery of the complete Metropolis, Fernando Martin Peña.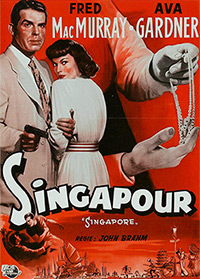 The ten day festival closed with a salute to Hollywood's take on the Far East, a triple bill of the rarely screened Singapore (1947) and two Joseph Von Sternberg films Macao (1952) and The Shanghai Gesture (1942). A closing night party followed on the Castro Theatre's mezzanine. Revelers enjoyed free drinks and a chance to mingle with their fellow NOIR CITY attendees. If you couldn't make our flagship NOIR CITY San Francisco festival, don't despair, we also have satellite festivals in Seattle, Austin, Hollywood, Chicago, Washington D.C. and Portland (OR).
NOIR CITY 12 PHOTOS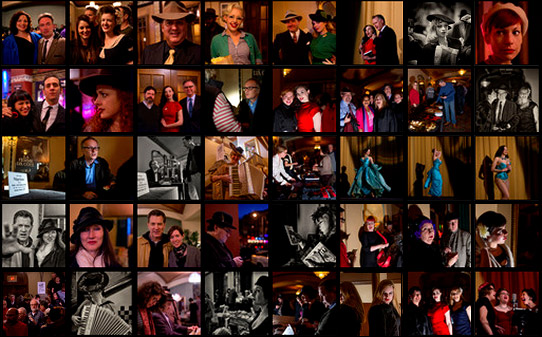 ↑ View photographer David M. Allen's full NOIR CITY 12 coverage here.
To purchase photos, click on an image within the gallery; select "buy" from the drop down menu to be linked to a price sheet. Want to check out photos from a specific date? Check out the links below for each festival date.
You can now attend NOIR CITY festivals in San, Francisco, Seattle, Austin, Hollywood, Chicago, Washington D.C. and Portland (OR). Go here for more on the FNF's mission to save film noir for future generations.
PRESS
The Murderers Are Among Us — Corey Brown, A Spectacle for Machines
NOIR CITY: The Streets of San Francisco —Vince Keenan
Straight Shooting with NOIR CITY 12 and Czar of Noir Eddie Muller — Jackson Scarlett, 7x7SF
Around & About the Movies: Noir City Film Noir Fest #12 — Ken Bullock, The Berkeley Daily Planet
Global tension: NOIR CITY12 widens its focus, but it still ain't afraid of the dark — Dennis Harvey, San Francisco Bay Guardian
Guard your back: NOIR CITY returns — Tavo Amador, Bay Area Reporter
'It's A Bitter Little World' – Talking with Producer Eddie Muller — Sean Martinfield, SF Examiner
Five Highlights from NOIR CITY Film Festival — Woodrow Currie, SF Station
12th Annual Noir City Film Festival – International Edition — Joe Talbot, creator of this year's NOIR CITY trailer, previews NOIR CITY 12 for Filmbalaya.
NOIR CITY festival explores how film noir translated abroad — G. Allen Johnson, SF Gate
NOIR CITY 12: Here and There — Brian Darr, Fandor
Fandor's look at NOIR CITY 12's internationally themed programming — Fandor
In San Francisco, impresario going international with 12th annual NOIR CITY festival — Sura Wood, Contra Costa Times
A 'noir Noel' ushers in San Francisco's Noir City film fest 12 — Jonathan Farrell, Digital Journal
Noir film festival helps celebrate vintage fashion and world-wide — Jonathan Farrell, Digital Journal
Subtitled Noir — Lincoln Spector, Bayflicks.net
Noir City 12 Goes International in San Francisco — The Bay Crew, Amoeba.com