NOIR CITY Xmas 2023 • Grand Lake Theatre
Join host Eddie Muller on Wednesday, December 20, 7:30 pm, at Oakland's historic Grand Lake Theatre for NOIR CITY XMAS! To darken your yuletide spirit, the Film Noir Foundation is presenting – in 35mm – Cover Up, a 1949 noir film recently restored by UCLA Film & Television Archive, starring William Bendix, Dennis O'Keefe, and Barbara Britton.
The evening will also feature the unveiling of the program (and poster!) for NOIR CITY 21, the 21st year of the world's most popular film noir festival, coming to the Grand Lake Theatre January 19-28, 2024.
Additionally, between 6:30 – 7:15 there will be a book signing by Eddie Muller of his three latest – Kid Noir: Kitty Feral and the Case of the Marshmallow Monkey, Eddie Muller's NOIR BAR: Cocktails Inspired by the World of Film Noir, and Dark City: The Lost World of Film Noir. These books will be available for sale at NOIR CITY Xmas through Walden Pond Books – which will be located next to the FNF merchandise table on the Grand Lake Theatre mezzanine.
NOTE: Eddie will also be available for 30 minutes after the show to sign books for those who missed him during the 6:30 signing.
NOIR CITY XMAS TICKETS
Tickets are now available online for $15 from Eventbrite, and can also be purchased at the theatre box office on the day of the show. Doors will open at 6:30 pm on the day of the event.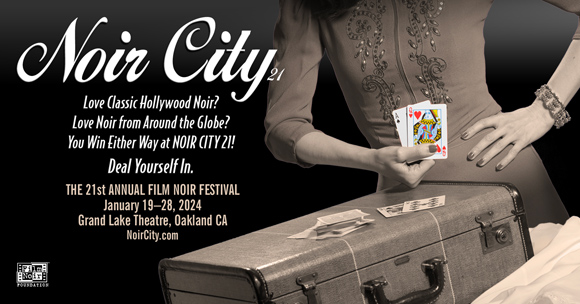 NOIR CITY 21 PASSPORT
Secure your spot for the 10-day/24-film festival with an all-access pass for $200—a $40 savings over the regular ticket price! The Grand Lake Theatre will have a Passholders' queue for early admittance. → MORE INFO HERE
All you need to know about the NOIR CITY Film Festival ↓