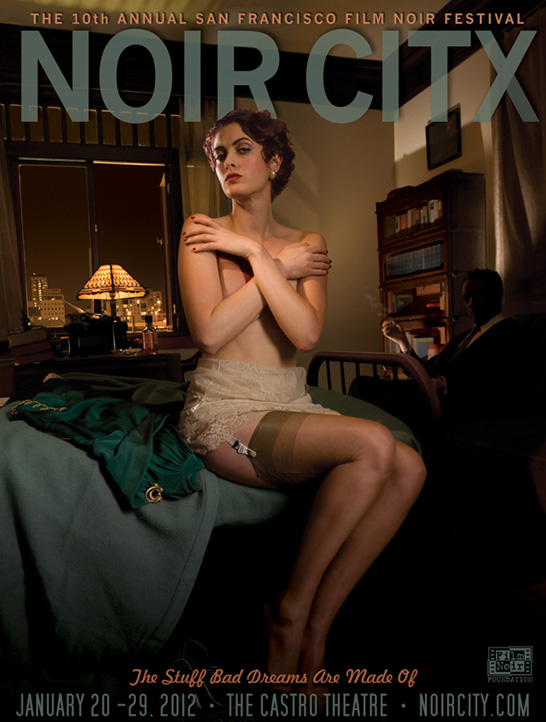 NOIR CITY celebrates its 10th anniversary as the world's most popular film noir festival with a 10-day extravaganza featuring San Francisco treats, a Dashiell Hammett marathon, freshly preserved 35mm rarities, by-popular-demand encore screenings, surprises galore, and super special guest star ANGIE DICKINSON! Join us January 20-29, 2012 for what promises to be the darkest and most delirious incarnation yet of San Francisco's most popular classic film festival: NOIR CITY!

Among the rarities being presented this year: a brand new 35mm print of 1949's The Great Gatsby, starring Alan Ladd as F. Scott Fitzgerald's legendary lovelorn hero. The film has been buried for decades, but Muller's perseverance persuaded Universal Pictures to strike a preservation print for NOIR CITY. The studio also is providing a brand new 35mm print of 1954's Naked Alibi, starring noir's favorite bad girl, Gloria Grahame. The Film Noir Foundation has also funded a new 35mm preservation of the "lost" 1946 classic Three Strangers, which had no viewable prints and has never been released on DVD. NOIR CITY is also proud to have been chosen to premiere the Film Foundation's recently completed preservation of the superb 1950 Michael Curtiz film The Breaking Point, starring John Garfield.
As an added 10th anniversary attraction, this year's festival also features the live event Everyone Comes to Eddie's: The NOIR CITY Nightclub, a nocturnal celebration of noir style, presented Saturday night, January 28, at the Swedish-American Hall, 2174 Market Street—converted for one night into a sleek and slightly sinister 1940's era nightspot. Entertainment will include the sensational song stylings of the city's own Mr. Lucky, classic torch-song temptress Laura Ellis, internationally renowned burlesque queen Evie Lovelle (flying in from France!), and Kansas City's cutting-edge noir-rockers The Latenight Callers. Revelers can party like it's 1949! NOIR CITY Nightclub tickets priced separately. Tickets to this event will go on sale January 6. Check back here for details.
Looking for the perfect Holiday gift? How about a Passport to NOIR CITY? Passports ($120) grant the bearer admission to every screening on the schedule. Passport holders will have a chance to mingle with fellow noir lovers at the opening reception where they can chat, imbibe, and dig the coolest music. Passports can be purchased through Brown Paper Tickets, as well as individual tickets for double features. Patrons can also purchase tickets for the same low price at the Castro box office on the day of show.
Check the Program Guide for times, tickets and program notes.
Friday, January 20
DARK PASSAGE (1947) Dir. Delmer Daves
THE HOUSE ON TELEGRAPH HILL (1951) Dir. Robert Wise
Saturday, January 21, Matinée
OKAY, AMERICA (1932) Dir. Tay Garnett
AFRAID TO TALK (1932) Dir. Edward L. Cahn
Saturday, January 21, Evening
THE KILLERS (1964) Dir. Don Siegel
On-Stage Interview with ANGIE DICKINSON!
POINT BLANK (1967) Dir. John Boorman
Sunday, January 22
LAURA (1944) Dir. Otto Preminger
BEDELIA (1946) Dir. Lance Comfort
Monday, January 23
GILDA (1946) Dir. Charles Vidor
THE MONEY TRAP (1965) Dir. Burt Kennedy

Tuesday, January 24
UNFAITHFULLY YOURS (1948) Dir. Preston Sturges
THE GOOD HUMOR MAN (1950) Dir. Lloyd Bacon

Wednesday, January 25
HOUSE OF BAMBOO (1955) Dir. Samuel Fuller
UNDERWORLD USA (1961) Dir. Samuel Fuller

Thursday, January 26
NAKED ALIBI (1954) Dir. Jerry Hopper
PICKUP (1951) Dir. Hugo Haas

Friday, January 27
THIEVES' HIGHWAY (1949) Dir. Jules Dassin
THE BREAKING POINT (1950) Dir. Michael Curtiz

Saturday January 28
THE GREAT GATSBY (1949) Dir. Elliott Nugent
THREE STRANGERS (1946) Dir. Jean Negulesco

Sunday January 29
ROADHOUSE NIGHTS (1930) Dir. Hobert Henley
THE MALTESE FALCON (1931) Dir. Roy Del Ruth
CITY STREETS (1932) Robert Mamoulian
MR. DYNAMITE (1935) Alan Crosland
THE GLASS KEY (1942) Stuart Heisler
THE MALTESE FALCON (1941) John Huston
To commemorate its 10th anniversary, NOIR CITY has returned to the source. This year's poster was created in the San Francisco apartment where Dashiell Hammett, between 1927-29, wrote Red Harvest, The Dain Curse, and The Maltese Falcon, laying the foundation for film noir. Ms. NOIR CITY 2012, Helena Bianca Stoddard, portrays The Maltese Falcon's duplicitous Brigid O'Shaughnessy, in a variation on a scene cut from all filme1d versions of the book. When one of the ten $1000 bills he's been paid to locate the Black Bird goes missing, Sam Spade demands that Brigid undress to prove she's hasn't stolen the money.
CREDITS Eddie Muller (concept, slideshow); Bill Selby (art direction); David M. Allen (photography); Helena Bianca Stoddard (Brigid O'Shaughnessy); Melissa Wagner (hair and makeup); Valentine (wardrobe); Leonardo (décor); Artie Shaw (music: "Nightmare")
For extended coverage of the FNF's screenings, festivals, and other activities as well as articles on noir-related events, film reviews, and more, subscribe to our quarterly electronic magazine, NOIR CITY. Start by adding your name to our mailing list and then making a donation to the FNF of $20 or more. Peruse samples of our articles here.

Ready for an entertaining read and a chance to help preserve film noir? The NOIR CITY SENTINEL ANNUAL #3 is available here., and it's the finest edition yet. 272 pages of essays, interviews, profiles, tributes, and reviews of classic and modern film noirs, illustrated with exceptional photographs. This volume includes some of the best features from the 2010 NOIR CITY SENTINEL, as well as new never-before-seen material. Included are pieces from Eddie Muller, Foster Hirsch, Megan Abbott, Alan Rode, Don Malcolm, Marc Svetov, Will Viharo, and many more. All for the low price of $20.

The Film Noir Foundation has joined forces with Back Alley Noir to bring film noir devotees the very latest news. When readers have a question for the Foundation or want to post their own noir news, they can do so via BAN's discussion board , the official discussion board for the FNF.
The Film Noir Foundation can be found on both Facebook, Myspace and Twitter. If you haven't signed up, maybe you should. Maybe you'll meet someone who will betray you and leave you for dead on the internet. At the least, you'll have access to a vast repository of noir posters and photos.